Tuesday, September 26, 2023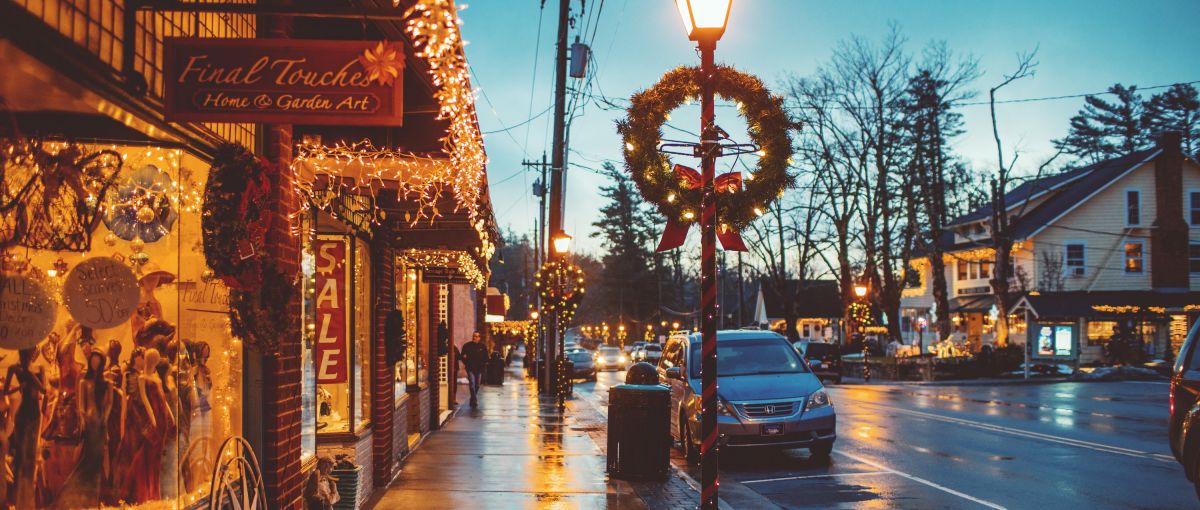 Downtown Blowing Rock, North Carolina
Nonprofit political activity, or even the whiff of it, raises red flags even up in the Blue Ridge Mountains.  Blowing Rock, founded mostly by ex-confederates returning from the Civil War as in the novel Cold Mountain, has about 1500 people, give or take.  Today its a refuge for some highly learned and accomplished people wanting an existence up in the mountains, off the beaten path, and not easy to get to.  To preserve the feel --  sort of "Murder She Wrote" without the weekly murders -- citizens got together and formed the Blowing Rock Civic Association.  And I tell you, the Blowing Rock Board of Trustee web page reads like the faculty page at an impossible to-get-into-University.  No kidding, there are no poor dumb and desperate never-even-owned-a-slave returning confederates there anymore.  Its all Ivy or Public Ivy expats. Taking refuge from their rat race in New York or San Francisco.  Here are the bios for a couple of the  attorneys:
Jane Whitt Sellers, a resident of Wonderland Drive and the Vice Chair and a member of the Executive Committee of the BRCA Board of Trustees. She and her husband David have been homeowners in Blowing Rock since 2017. Janie graduated from Hollins University and then earned an MS from Virginia Tech and a JD from the University of Virginia School of Law. Janie retired in 2020 from being a senior partner with McGuireWoods LLP, concentrating in corporate finance, corporate governance, securities and mergers and acquisitions. She has experience in domestic (U.S.) and cross border representations. Janie has served in leadership positions on numerous boards including the Alamance Country Club, The University of the South (Sewanee), The Burlington School, St. Margaret's School, St. Margaret's School Foundation, Church Schools in the Diocese of Virginia, and the Virginia State Bar Business Law Section. She has also served as a Vestry member and Senior Warden, Episcopal Church of the Holy Comforter in Burlington, NC. In Blowing Rock Janie is a member of BRAHM and the Blowing Rock Historical Society and attends Rumple Presbyterian Church and St. Mary's of the Hills Episcopal Church.
John Orgain, a resident of the Country Club and a member of the Board of Trustees of the BRCA. When not in Blowing Rock, he and his wife Neal live in Hickory. John graduated from Duke University and Harvard Law School. He currently serves as President of MDI Management and as the Chief Legal Officer of Alex Lee. John also serves on the Boards of Souto Foods and W. Lee Flowers. He is a Certified Director and Leadership Governance Fellow of the National Association of Corporate Directors. His community involvement includes serving on the Boards of the Hart Square Foundation, The George Foundation, the Virginia Food Industry, and as Chair of the North Carolina Retail Merchants Association. John is Past Chair of the Boards of the Catawba Valley Community Foundation, The Catawba County Champions of Education, Hickory Day School, and Frye Regional Medical Center. In addition, he is a past Vestry member of the Episcopal Church of the Ascension. In Blowing Rock John is involved in a number of charitable organizations.
There are fault lines in every community, I imagine.  One fault line in Blowing Rock divides permanent residents from seasonal residents, probably those well educated know-it-alls sitting on the BRCA board.  Every summer flocking in from the big city to work remotely and acting like they own the place, is what an 80 something year old year round resident name Joe Amaroso would probably tell us.  And stirring up political trouble with their voter registration drives and such.  Anyway, the Blowing Rock fault line exposed itself a bit during the height of Covid-19.  In early to mid 2020, probably too soon for comfort, the BRCA proposed lifting a 14 day quarantine requirement for returning seasonal residents. Well Joe got his back up and fired off a letter to the High Country:  
Dear Editor:
So the Blowing Rock Civic Association has asked the Watauga County Commission to cancel the quarantine order for seasonal homeowners who want to return to Blowing Rock without having to endure the 14-day quarantine. Who does the BRCA represent, the seasonal homeowners or the residents of Blowing Rock? As far as I know, the "residents" have been doing an excellent job of staying home, putting on masks when shopping, keeping a safe distance, and generally doing whatever possible to avoid catching or passing on this disease to others. Furthermore, none of our friends who are seasonal residents have expressed concern about having to quarantine once they get back. They see it as a reasonable precaution that protects others as well as themselves. Speaking as one of the residents, I'd like to see all of us respect those rules, and continue to respect them as long as the threat remains. As you may have noticed, this county — with a large university, a major international relief organization that has gone wherever they are needed, and a steady stream of tourists visiting the area — has done very well with an almost month-long record of eight cases and no deaths throughout a period while other areas just a few miles away aren't even close to their peak of cases and deaths. We also have an excellent health care organization in our county that is doing its best to protect and care for all of us. We owe it to those professionals to keep the number of cases as low as possible.
I didn't check for a response from BRCA, but the High Point is a online newspaper publishing fewer daily stories than this blog and all the letters are online too if you want to check.  The letter that caught the attention of the BRCA is one in which Joe complains about the political motives of BRCA in light of a recent 501(h) election:
Dear Editor:
[My question for BRCA].  You have changed your tax status from 501(c)(3) to 501(h) which now allows you to retain your tax-exempt status and also to spend 20-percent of your resources or up to $500k on lobbying.  You also have returned to encouraging your members to change their NC voting residence to Blowing Rock so they can vote in the upcoming elections here.  Coincidently, you now have a member of your Board running for Town Council this year.
Given these changes, I'd like to ask you what you will be doing in the "lobbying" category that is different from what you had been doing in the past?   I seem to remember that, in a letter to me and to HC Press, you adamantly denied being involved in lobbying activities, and threatened to sue anyone who said otherwise.
This sounds an awful lot like the "lipstick on a pig" adage.  Equally apt is "The more things change, the more they stay the same."  Please tell us all what has changed.
Joe Amoroso, Blowing Rock
Needless to say, the BRCA folks didn't take too kindly to the insinuation and . . . well . . . they got their lawyers involved.  We all know what happens when that happens.  Here is what the lawyers said, speaking again through the High Point:
Dear Mr. Garrett:
This firm represents Blowing Rock Civic Association (hereinafter "BRCA"). This letter is in response to a letter from Joseph A. Amoroso entitled "Blowing Rock Civic Association Pretends to Have Your Interest at Heart," recently posted in the High Country Press. 
BRCA has operated as a valid educational 501(c)(3) tax-exempt organization since April 30, 2015. Therefore, Mr. Amoroso's letter is troublesome to BRCA. It is particularly troublesome because the statements made in the letter are inaccurate. The letter states that BRCA is "involved in elections." This is incorrect. BRCA does not promote or oppose candidates for election; BRCA does provide education on issues important to the Blowing Rock community. The letter's suggestion that encouraging voter registration is contrary to its 501(c)(3) status is simply false; such activities are clearly allowed. The letter states that "501(c)(3) organizations are specifically forbidden to lobby" and that "BRCA engaged in lobbying on at least three occasions." Both statements are false. First, 501(c)(3) organizations may engage in some level of influencing legislation (lobbying). That said, BRCA has not engaged in lobbying, and certainly not on three occasions. The letter states that BRCA has "cavalierly ignored the mandates of the Internal Revenue Service." This is false and Mr. Amoroso provided no evidence of such. These allegations are false statements made recklessly and without reasonable care as to the statement's truth or falsity. The statements are injurious to BRCA's goodwill and BRCA felt compelled to provide a formal response to set the record straight. Thank you for that opportunity.
Sincerely, 
JOHNSTON, ALLISON & HORD, P.A. 
I imagine a similar letter was sent directly to Joe, who will proudly run that thing up the flag pole to show what bullies these seasonal folks are.  I don't imagine the BRCA will sue Joe or anything like that.  I will ask them to keep me posted anyway. In the meantime, the BRCA posted a more thorough response on its webpage. They admit to lobbying -- "of course, that's why we made the 501(h) election, Joe, c'mon!" -- but deny campaign intervention noting that the candidate resigned from the Board before declaring, precisely to avoid even the appearance.  They seem right, but I kinda hope Joe doesn't ever buy it.  I would like to listen in a little more. Besides every nonprofit organization, even one way up near Cold Mountain, needs a contrarian to keep its fiduciaries on their toes.  So I hope Joe keeps getting invited to the town holiday festivities this winter.
darryll k. jones
https://lawprofessors.typepad.com/nonprofit/2023/09/campaign-intervention-and-excess-lobbying-in-cold-mountain.html