Wednesday, March 22, 2023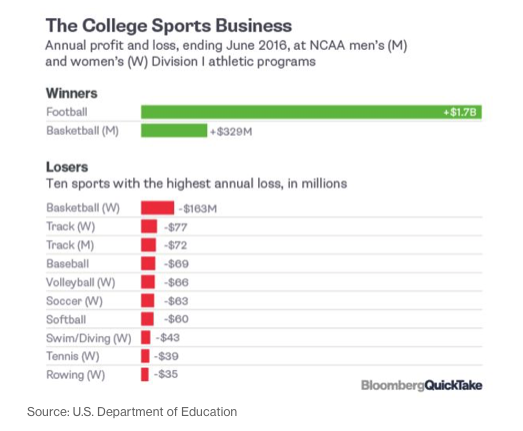 An abstract from a paper posted by William Devine.
Many observers, including at least one associate justice of the United States Supreme Court, seem to believe there's just one big question about the legality of higher education's multi-billion dollar revenue sport business model. That's the business model that lets schools take eight-figure annual slices from a multi-billion dollar TV deal pie, lets bureaucrats and men who teach football and men's basketball earn multi-million dollar salaries, yet forbids players from earning wages from schools. Their question is, does the agreement among schools to prohibit each other from paying a player to play a sport violate antitrust law?

Yet the case that revenue sport critics would most welcome, and that revenue sport proponents would most fear, might instead be one that asks, does the revenue sport business university trustees oversee cause them to breach fiduciary duties imposed by laws governing charitable corporations?

This article maintains it does. Trustees direct university affairs. Universities are tax exempt corporations with a charitable purpose: education. An 11-state survey shows law requires trustees to operate institutions according to institutional purpose. The law imposes liability when trustees breach duties. It authorizes attorneys general to bring enforcement actions.

Trustees are relentless in their workforce exploitation, educational compromise, PR dissembling and legal delusions. They have no apparent plan for handling the fiscal calamity that could strike if, as is increasingly likely, three forces collide: a revenue sport player work stoppage, Title IX requirements, and the default/penalty clauses written into billions of dollars of contracts universities have signed with television networks and with each other.

Because the revenue sport business undermines institutional purpose, laws governing charitable corporations could be used to force trustees to dismantle revenue sport teams, especially at private universities. Disregard for institutional purpose, along with the recklessness of ignoring the possible fiscal calamity, could be grounds for holding trustees personally liable for damages. The defense that revenue sports' educational value brings them within the bounds of university purpose is arguably not sufficiently rooted in reality to survive scrutiny. The slender legal precedent for the position that revenue sports have educational value comes from such a distant economic era that it is arguably obsolete. The defense that other sports, especially women's sports, will lose funding if revenue sport revenues disappear is a cry for continued discrimination.

Basketball and football are gateways to experiences that can border on sublime. But operating billion-dollar leagues for these sports is not the job of higher education trustees. Educating students all the way to graduation is. The article concludes by sketching a path trustees could take to dismantle the revenue sport business on a deliberate basis, rather than waiting for a player work stoppage or court order that forces them to dismantle it under duress.
 darryll jones
https://lawprofessors.typepad.com/nonprofit/2023/03/a-proposal-to-dismantle-college-revenue-sports-to-save-the-charitableeducational-purpose.html