Friday, February 3, 2023
The Philanthropy Roundtable has prepared an impressive report in which it ranks all 50 states from least burdensome (from a regulatory standpoint) on Charities to most burdensome.  Here are snippets:
The five states with the friendliest regulatory environment toward charitable organizations are Montana, Wyoming, Nebraska, Delaware and Idaho. The five states with the most burdensome regulatory environment toward charitable organizations are Connecticut, Mississippi, New Jersey, Florida and Pennsylvania. Relating these rankings to the vibrancy of the charitable sector (as measured by the number of charities per billion dollars of GDP) provides initial perspective regarding the consequences from imposing a more burdensome regulatory environment on charitable organizations. There is, in fact, a strong correlation between the states that impose more burdensome regulatory environments and the vibrancy of the charitable sector. While more research is required, the results are an initial indication that the states imposing the most burdensome regulatory environments are dimming the vibrancy of the charitable sector.  Consequently, states should consider the benefits from streamlining state regulations and eliminating unnecessary burdens as a means for promoting a more efficient and effective charitable sector.
. . . 
While there is a need for regulations on the charitable sector to foster accountability and trust in charities, excessive levels
of regulation impose a burden on charities that outweighs the benefit of the regulation. 
Little research has been done to examine the impact of overregulation on the charitable sector. This study is a first
step toward gaining a better understanding of the regulatory burden imposed on charities.
By comparing states along five categories of charitable regulations, one can see that overregulation is correlated with
relatively fewer charities in a state.
Our society and those in need depend on a thriving, vibrant charitable sector. The evidence in this study suggests excessive levels of regulation are counterproductive to fostering a positive environment for charities and those they serve.
Here is part of the overall rankings.  The entire table is available in the report.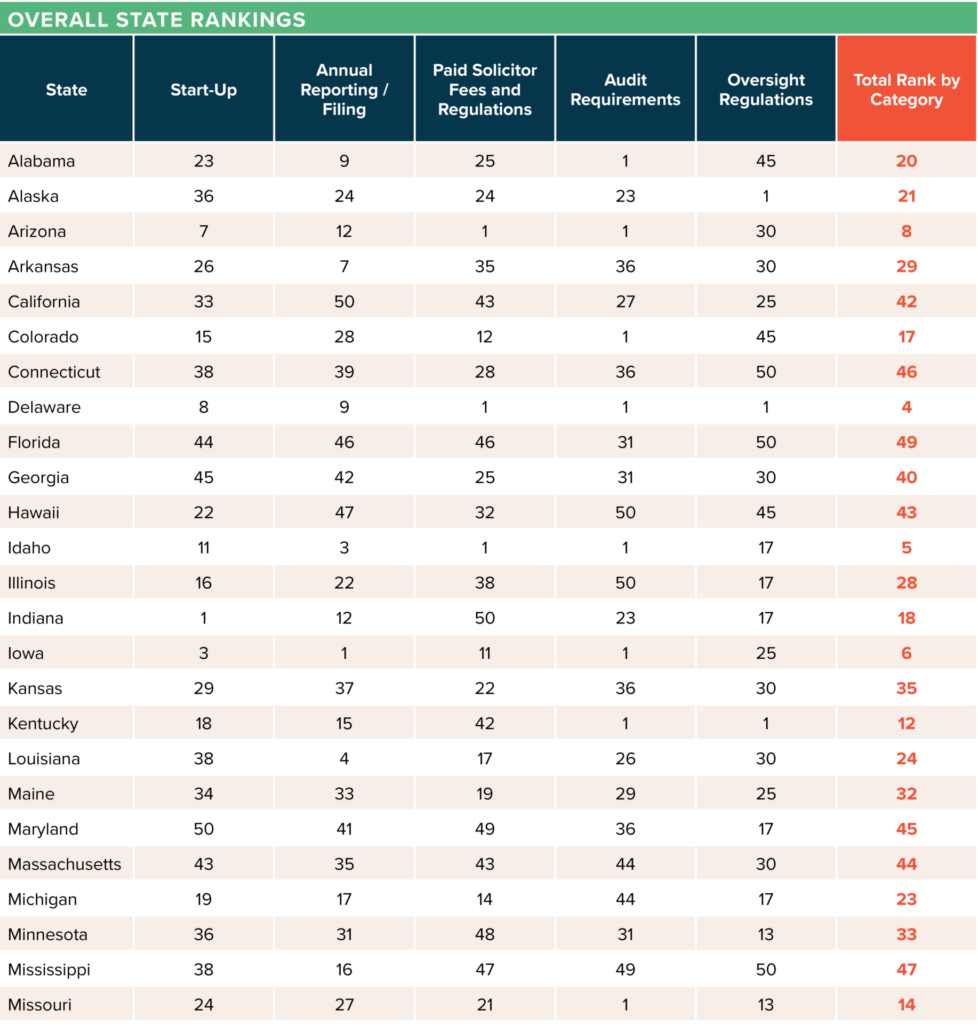 darryll jones
https://lawprofessors.typepad.com/nonprofit/2023/02/the-50-state-index-of-charity-regulations.html