Friday, September 8, 2017
A new collection of essays, Evidence and Innovation in Housing Law and Policy, edited by Lee Anne Fennell (U Chicago Law) and Benjamin J. Keys (Wharton, U Penn) and published by Cambridge University Press, was just made available through Cambridge UP's open access portal.  The book's contents are freely available here.
Contributors include:  William A. Fischel, David Schleicher, Richard A. Epstein, Ingrid Gould Ellen, Brian J. McCabe, Lior Jacob Strahilevitz, Georgette Chapman Phillips, Matthew Desmond, Stephanie M. Stern, Christopher Mayer, Ian Ayres, Gary Klein, Jeffrey West, Atif Mian, Amir Sufi, Patricia A. McCoy, Susan Wachter, Raphael W. Bostic, Anthony W. Orlando. 
Well worth a look!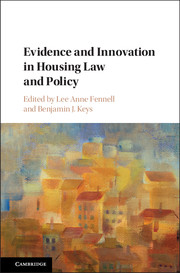 https://lawprofessors.typepad.com/land_use/2017/09/fennell-keys-evidence-and-innovation-in-housing-law-and-policy-now-freely-accessible-on-cambridge-up.html