Tuesday, May 23, 2023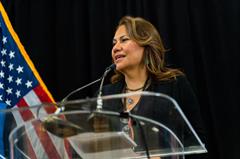 Two Latinas in Congress are trying to make immigration reform a reality. Roll Call reports that:
"Florida Republican Rep. Maria Elvira Salazar and Texas Democrat Rep. Veronica Escobar have teamed up on a sprawling immigration bill that aims to revamp asylum processing, slash visa backlogs and provide a path to legal status for millions of undocumented immigrants.
The nearly 500-page bill, set to be announced [today], represents a rare bipartisan effort on immigration, a topic that has become a political wedge issue and source of stalemate in Congress for decades. And it includes proposals that incorporate elements from earlier, narrower bipartisan immigration bills."
Stay tuned for details.
KJ
UPDATE:  Here is a press release and link to a summary of the proposed legislation, which is named the Dignity Act of 2023. This article in the Hill discusses the proposed legislation.
https://lawprofessors.typepad.com/immigration/2023/05/representatives-salazar-escobar-to-propose-comprehensive-immigration-bill.html