Friday, May 20, 2022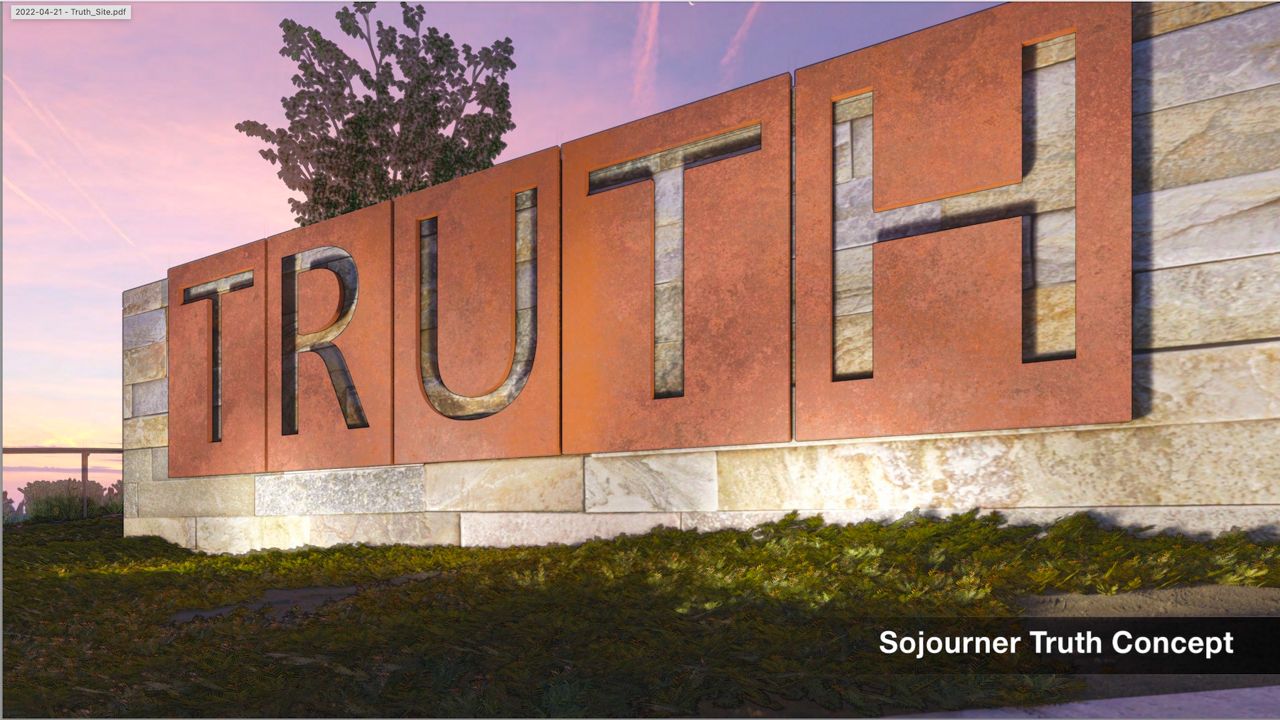 Sojourner Truth Committee Reveals Akron Monument Designs
AKRON, Ohio — As the anniversary nears of Sojourner Truth's celebrated "Ain't I a Woman" speech in Akron, a dedicated group of women is at work bringing a years-long dream to fruition — a tribute as memorable and powerful as the life and work of the slave-turned-suffragette, built on the site where she made history.

 

In less than two years, the Sojourner Truth Project Committee plans to build a 10,000-square-foot plaza that will welcome visitors coming into Akron from the north, with the word "TRUTH" clearly visible on entry. Near the plaza's center will be a sculpture of Sojourner Truth seated on an Impala lily, a petal design radiating outward from her feet, and her right hand extended in welcome.

 

"Truth is such a big word. It's so bold and so concrete. What it stands for is unwavering," said Summit County Metro Parks' landscape architect Dion Harris, who the committee commissioned to design the plaza.

 

Truth was a powerful voice for women's rights, especially women of color. An emancipated New-York slave born Isabella Baumfree, she changed her name in 1843 before crisscrossing the nation to speak against slavery and for women's rights.

 

On May 29, 1851 during an Ohio Women's Rights Convention, the steps of the Old Stone Church on High Street served as Truth's platform. She was not invited, nor was she asked to speak, but her speech that day is remembered as a voice for all women.

 

Although the steps are long gone, the power of Truth's speech remains, rendering it one of the most important women's rights speeches on record in the U.S.

 

Harris researched Truth's life and work to infuse that meaning into the design, he said. The impala lily is the national flower of Ghana, Truth's ancestry on her father's side.
https://lawprofessors.typepad.com/gender_law/2022/05/sojourner-truth-monument-revealed-for-akron.html