Wednesday, May 24, 2017
From Naomi Cahn (George Washington University Law School) & June Carbone (University of Minnesota Law School), writing for the Institute for Family Studies:
As we found when looking through a range of studies, divorce risk is not evenly spread among those aged 50 and older. Depending on your demographic, you may or may not be comforted by these trends.
First, some good news for everyone: the divorce rate is still not all that high for those over the age of 50. Yes, it has doubled over the past 30 years: in 1990, five out of every 1,000 married people divorced, and in 2010, it was 10 out of every 1,000 married people. And yes, the rate has risen much more dramatically for gray Americans than for those under 50; in fact, there was a decline in the rate for those between the ages of 25-39. But the divorce rate for those over 50 is still half the rate for those under 50.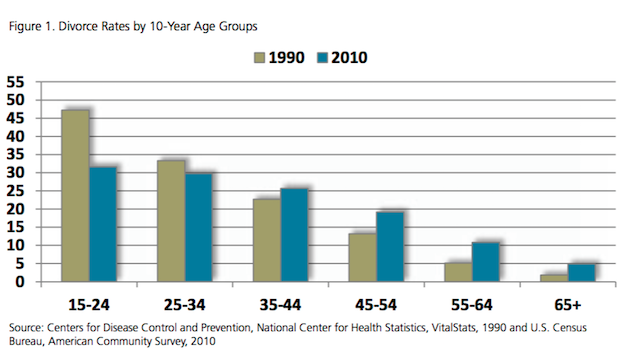 Source: Susan L. Brown, et al., "Age Variation in the Divorce Rate, 1990-2010," Family Profiles, NCFMR, FP-12-05.
Second, the triggering events for gray divorce are not what one might assume.
Read more here.
https://lawprofessors.typepad.com/family_law/2017/05/more-details-on-gray-divorces.html