« July 5, 2009 - July 11, 2009 | Main | July 19, 2009 - July 25, 2009 »
July 18, 2009
2nd U.S. Circuit Court of Appeals Reverses Lower Court Ruling Excluding Muslim Scholar on Basis of $1336 Donation to Swiss Charity With Alleged Ties to Hamas: Whose right, Obama or Cheney?
Yesterday, in American Academy of Religion v. Napolitano, the 2nd U.S. Circuit Court of Appeals reversed a lower court ruling upholding the denial of a visa to a Muslim scholar on the basis of his $1300 contribution to a charity suspected of supporting terrorist.  The opinion is summarized in today's New York Times :  
A federal appeals court in Manhattan on Friday reversed a lower-court ruling that had allowed the government to bar a prominent Muslim scholar from entering the United States on the ground that he had contributed to a charity that had connections to terrorism.  The scholar, Tariq Ramadan, 46, a Swiss academic, was to become a tenured professor at the University of Notre Dame, but the Bush administration revoked his visa in 2004 and again denied him a visa in 2006. The government cited evidence that from 1998 to 2002, he donated about $1,300 to a Swiss-based charity that the Treasury Department later categorized as a terrorist organization because it provided money to Hamas, the militant Palestinian group.  
The American Civil Liberties Union's press release states:  
Ramadan was invited to teach at the University of Notre Dame in 2004 but the U.S. government revoked his visa, citing a statute that applies to those who have "endorsed or espoused" terrorism. In January 2006, the ACLU and the New York Civil Liberties Union filed a lawsuit challenging Professor Ramadan's exclusion on behalf of the American Academy of Religion, the American Association of University Professors and the PEN American Center. After the ACLU filed suit, the government abandoned its claim that Ramadan had endorsed terrorism, but it continued to defend his exclusion on the grounds that he had made small donations to a Swiss charity that the government alleged had given money to Hamas.
There is logical appeal to the notion that the government should vigorously pursue terrorists, using every legal tool at its disposal.  But relying on a $1,336.00 donation to a charity (the Association de Secours Palestinien or ASP) is tenuous at best.  I suppose a donation of even just a nickel to a terrorist organization is sufficient reason to initiate legal process to protect our families and our way of life.  All the more reason, though, that the government should dot every "i" and cross every "t" when it pursues those whose charitable contributions results in penal or even negative civil consequence.  By the way, the Bush administration issued an executive order labeling ASP a supporter of HAMAS terrorism in August 2003 and according to the Jewish Virtual Library:  
HAMAS raises tens of millions or dollars per year throughout the world using charitable fundraising as cover.  While HAMAS may provide money for legitimate charitable work, this work is a primary recruiting tool for the organization's militant causes.  HAMAS relies on donations from Palestinian expatriates around the world and private benefactors located in moderate Arab states, Western Europe and North America.  HAMAS uses a web of charities to facilitate funding and to funnel money.  Charitable donations to non-governmental organizations are commingled, moved between charities in ways that hide the money trail, and then often diverted or siphoned to support terrorism. The funds pouring into HAMAS coffers directly undermine the Middle East peace process.  These funds allow the group to continue to foment violence, strengthen its terrorist infrastructure, and undermine responsible leadership.  The political leadership of HAMAS directs its terrorist networks just as they oversee their other activities.  HAMAS leader Yassin confirms this relationship, stating to al-Sharq al-Awsat on August 12, 2002: "When we make decisions on the political level and convey them to the military wing, it abides by it normally."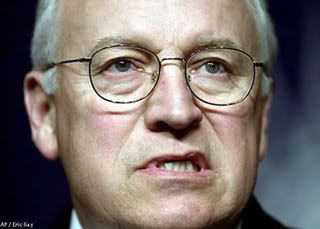 The document goes on to argue that ASP is basically a fundraiser for HAMAS in Switzerland and has collected "large amounts of money from mosques and Islamic centers, which it then transfers to suborganizations of Hamas."  Though it is easy to dismiss former Vice President Cheney as a scowling lunatic, its perhaps naive to dismiss his ill-articulated fear and sentiment in a dangerous world.  After all, Cheney was alone in voting against sanctions for South Africa.  My own opinion is that he is not a racist, he is just willing to step on anybody regardless of race or nationality, not to mention the Constitution, to protect the American way of life (as he understands it).  So while he is a poor spokesperson at best, his ultimate goal is grounded in our shared belief in the rights of all to the pursuit of happiness. 
On the other hand, it could be dangerous to accept the "feel good" theology that President Obama (and me too) want so badly to embrace.  The notion that perhaps there are real injustices to which the Palestinien people object and therefore we ought to simply assume the complete opposite of Cheney's view -- that Islamic charities invariably support terrorism -- can legitimately be described as Utopian and maybe even dangerous.  Certainly, real terrorist exploit our tendency to want to believe that all people are basically good and mean no harm.  In the past, I have railed against what the ACLU has termed as knee jerk, racist inspired responses to the allegation that a charity that merely seeks humanitarian goals for "the other side" must invariably be fronts for terroism financing.  But American Academy of Religion v. Napolitano requires that we face the difficult task of distinguishing between terrorism and charity.  Suppose the petitioner's small $1300 donation was used to purchase a glock or a suicide vest?  How to make the distinction without trampling on the Constitution is harder to do than simply expressing revulsion and summarily dismissing Cheney-esque responses.  At the least, though, we better comply with even the most technical requirements of due process, lest our fear turn us into suit wearing terrorists ourselves.
dkj
July 18, 2009 in Federal – Judicial | Permalink | Comments (0) | TrackBack
July 17, 2009
PA to Civil Rights Division: Please Investigate the Swim Club
The Philadelpia Inquirer's blog, The Source, reports that Sonya Toler, executive director of the Governor's Advisory Committee on African American Affairs of Pennsylvania, has written the Civil Rights Division of the Dept. of Justice to express support for an investigation of "the incident" at the swim club. She notes the committee's "view that the Civil Rights Act of 1964 is implicated."  The letter also notes that an investigation by the Pennsylvania Human Relations Committee is already underway.  For Ms. Toler's letter, go here.
sng
July 17, 2009 in In the News | Permalink | Comments (0) | TrackBack
Tribal Charities Fairness Act Makes Good Sense and Would Help Clarify Tribal Sovereignty Issues
A bill pending in Congress, The Tribal Charities Fairness Act, would take a small but significant step towards clarifying the tax relationship between the federal government and tribal governing authorities.  The longstanding myopia is well described in a recent article posted by Professor Ellen Aprill:
In tax law, as elsewhere, the federal government has treated native Americans and their tribal governments ineffectively and inconsistently. Examining the treatment of Indian tribal government under the Internal Revenue Code through the early 1990's demonstrates again their unique position in our federal system. The saga of how these tax laws affected tribal governments, however, also illustrates in dramatic microcosm the relationship between ambiguous statutory language, administrative discretion, and legislative oversight.

One of the ways the ineffective and inconsistent treatment Aprill talks about is manifested is in the way tribal charities are classified as either public charities or private foundations.  Here is a summary of the problem from one of the chief legislative sponsors of the Tribal Charities Fairness Act:
Native American households are among the most disadvantaged in the United States, with more than 25 percent living in poverty. Tribal charities play an essential role in providing assistance to impoverished communities across Indian country. Yet, the tax code currently treats tribes like corporations rather than like state and local governments when they fund charities that serve tribal members. That is why, joined by my colleague Devin Nunes (CA-21), l recently introduced H.R. 3085, the "Tribal Charities Fairness Act" in the House of Representatives. Charitable organizations under section 501(c)(3) of the tax code are classified as either public charities or private foundations.  Organizations are deemed "public charities" when they receive "public support" from local, state, or federal governments. When an organization does not receive public support, it is deemed a "private foundation" and is subject to more stringent tax rules and regulations. The Tribal Charities Fairness Act would allow Indian tribes to be treated the same as state and local governments when they provide support to tax-exempt charitable organizations – thus allowing tribal-funded charities that serve their communities to be deemed public charities. Passage of this legislation would free numerous nonprofit charities funded by Indian tribes – from health clinics and wellness centers to tribal museums and cultural centers – from additional tax rules aimed at regulating private foundations, not public charities. It's a question of equity, and tribes deserve to be treated the same as any state or local government.
The Tribal Charities Fairness Act would correct this disparity by allowing support from Tribal governing authorities to be taken into account in determing the amount of "public support" a charity receives, just as state support is taken into account in determining the public (rather than private) status of charities.  Professor Aprill has done excellent work in highlighting this issue, as demonstrated by the article linked to above as well as this informative powerpoint presentation. 
dkj
July 17, 2009 in Federal – Legislative | Permalink | Comments (0) | TrackBack
Obama Turns to Nonprofit World for Another Key Appointment
A few days ago we reported that President Obama picked a nonprofit health care provider as Surgeon General nominee.  Yesterday Obama selected another nonprofit worker to head the Equal Employment Opportunity Commission, according to the New York Times:
July 17, 2009 in Federal – Executive | Permalink | Comments (0) | TrackBack
Senate Considers Use of Nonprofit Health Care System, Rather than Government, to Provide Universal Health Care: Random Thoughts
According to the New York Time's political blog, The Caucus, senators considering the massive 615 page "Affordable Health Choices Act", are debating whether to use nonprofit health care providers, rather than a government run system, to serve the uninsured:
Senator Kent Conrad, Democrat of North Dakota, said that negotiators continued to discuss some of the most controversial issues including a compromise on the government-run insurance plan that would instead use nonprofit health cooperatives to provide the desired competition with for-profit insurers.
I suppose in theory using the nonprofit health care system, rather than government, to provide health care for the uninsured suits the American tendency to disparage anything public or "government" run.  My wife and I, for example, are currently trying to figure out whether to put our kids in private rather than public schools.  Some people cringe at the very mention of "public school" without ever having even visited a public school.  I am a product of public schools so I tend towards defense and indignation at the popular notion that private schools are somehow better.  Anyway, the idea that nonprofits might be better suited or even sufficient to provide universal health care seems dubious at best.  First, the standards for nonprofit health care are so unclear that it can hardly be assured that the nonprofit health care community will actually fill the market gaps that leave millions uninsured.  Safe to say that there is no absolute requirement to "feed the poor" to achieve nonprofit, tax exempt health car status.  Indeed, there are millions to be made by tax exempt health care providers who have no inclination to serve the poor.  To substitute the nonprofit community as a reliable source of health care for the poor therefore first requires a revamping of the requirements for tax exempt status for those institutions.  Second, nonprofit health care is sometimes (but not always) as beholding to the same market forces that motivate for-profit health care providers.  Note too, what the quoted language above actually says.  It says that senators are considering using nonprofit health cooperatives "to provide the desired competition with for-profit insurers."  Right now there are all sorts of rules in the tax code that are designed to prevent nonprofit health care providers from competing with for-profit insurers.  Nothing is written in stone, of course, but it seems to me a lot of changes will need to be made to the tax code if we are going to now encourage nonprofits to compete with for-profit insurers. There is a whole body of law designed precisely to keep tax exempt organizationsn from competing with for-profit insurers.  All of that will need to be revised and then eventually for-profit insurers will cry fowl, particularly if the proposal has the intended outcome of forcing for-profit insurers, and all health care providers, to reduce their fees.  For those interested, the bill (linked to above) has many provisions for grants and other payments to nonprofit health care providers.  Like many senators, I suspect, I have not yet had time to read 615 pages of legislative language.  But including several provisions for government spending on nonprofit health care provides all the more reason to better define what we mean by "nonprofit" (or tax exempt) health care.
dkj
July 17, 2009 in Federal – Legislative | Permalink | Comments (0) | TrackBack
July 16, 2009
Fisk University Wins On Appeal
In 1949 Georgia O'Keefe donated the Stieglitz Art Collection to Fisk University.  The collection includes art by O'Keefe, her husband Alfred Stieglitz, other American artists, and European artists including Cezanne, Picasso, and Renoir.  
Several years ago, faced with financial difficulties, Fisk sought to sell two paintings from the collection. In 2005, the Georgia O'Keefe Museum, located in Santa Fe, New Mexico and the successor to the O'Keefe estate, filed suit to block the sale.  A proposed settlement would have allowed the O'Keefe Museum to buy one of the paintings and would have allowed Fisk to sell the other painting to another buyer.  Then in September 2007, Fisk and Crystal Bridges, a new museum created with a gift from Alice Walton (the Walmart heiress) and located in Arkansas, agreed to a plan that involved co-ownership of the entire collection and a payment of $30 million by Crystal Bridges to Fisk.  In addition, Ms. Walton pledged $1 million to renovate Fisk's museum and also pledged to finance an art internship.
In a press release issued yesterday (July 15, 2009), and posted on the Fisk University
website
, Fisk announced that the Tennessee Court of Appeals has ruled that the O'Keefe Museum does not have standing to try to block the sale of the paintings and that Fisk may request cy pres relief.  If the O'Keefe Museum does not file an appeal, the case will return to the Chancery Court for a hearing on whether application of cy pres will permit the sale of a half interest to Crystal Bridges.  The appellate opinion noted that O'Keefe had a "general charitable intent" that the art be displayed "in Tennessee and in the South." This language may be significant for the cy pres proceeding, because a concern may be whether O'Keefe intended that all the art stay in Tennessee in perpetuity.
Thanks to Anne-Marie Rhodes, of Loyola-Chicago, for sending me the New York Times
story
that appeared yesterday in the ArtsBeat blog
sng
July 16, 2009 in State – Judicial | Permalink | Comments (0) | TrackBack
Yankees and Charity Work: Hope Week
It's baseball season, and I'm a Yankees fan, so it seems appropriate to report that the Yankees will engage in Hope Week next week.  The new project, added to the other charitable activities ball players routinely do, will have every member of the Yankees roster spend some time with a person or family or group that needs or deserves something special.  The players and their manager have divided into five groups and will visit a Little League player whose cerebral palsy has confined him to a wheelchair, a terminally ill man, children whose disease prevents them from being in the sunlight, two developmentally challenged workers from a law firm's mailroom, and a husband and wife who mentor neighborhood children.
It's not nonprofit law, but it's a nice story.  Go Yankees!
sng
July 16, 2009 in In the News | Permalink | Comments (0) | TrackBack
More Nonprofit/For Profit Collaboration
Today's New York Times has an interesting story about nanotechnology.  As someone who gets hopelessly confused by basic science concepts, I have trouble understanding the nanotechnology part of the article, but it sounds like some folks have figured out some really cool applications of nanotechnology, including one that helps clean or desalinize water.  For purposes of this blog, the equally interesting part of the article is the discussion of how universities and for-profit companies are working together.  The article describes universities licensing research, setting up incubators for new businesses, allowing small companies to use lab equipment for a user fee, and even investing in start-up businesses.  The collaboration benefits the universities by increasing dissemination of research and making new technology available for public benefit, part of the public mission of universities.  In addition, the universities find that the collaborations attract research and development grants from industry and may also become a source of income, of particular interest in these difficult economic times.
sng
July 16, 2009 in In the News | Permalink | Comments (0) | TrackBack
July 15, 2009
Executive Pay Too High?
The Committee of Interns and Residents/SEIU Healthcare, a union of resident physicians, recently delivered a letter to NY Attorney General Andrew Cuomo, asking that the AG's office review executive compensation paid by the nonprofit St. Barnabas hospital.  The hospital faces budget cuts, layoffs, increases in amounts employees pay for their benefits, and other financial issues.  The letter points specifically to compensation paid to the former CEO of St. Barnabas, including amounts paid for several years following his retirement, and expresses concern that the compensation is excessive.  For more information, go to the blog posted here.   
sng
July 15, 2009 in State – Executive | Permalink | Comments (0) | TrackBack
More on Discrimination Lawsuits Against Swim Club
Yesterday's blog noted that a group of parents planned to file a federal racial discrimination lawsuit against the Valley Swim Club but neglected to report that one lawsuit has already been filed by a parent.  Today's story in the Philadelphia Inquirer notes that the costs of the lawsuits could threaten the existence of the club.  Of course, the lawsuits would also be expensive for the plaintiffs - the day camp involved and the families.  Sen. Arlen Specter has met with club officials and, separately, with the executive director of the day camp.  He has suggested that instead of litigation the parties use mediation through the Civil Rights Division of the U.S. Dept. of Justice.  A mediated process will likely be less expensive, be resolved more quickly, and could allow the parties to reach a better result.
sng
July 15, 2009 in In the News | Permalink | Comments (0) | TrackBack
"Cash For Clunkers" Hurts Charities Devoted to Providing Transportation for the Poor
A few years ago, there was a big brouhaha about vehicle donations.  People were donating old jalopies to charities and taking full blue book value charitable contribution deductions even though the cars were worth far less, usually as evidenced by the price the charity subsequently sold the car for.  In 2003 and again in 2008, the Government Accounting Office conducted several studies calling into question the legitimacy of the charitable contribution deduction claimed by taxpayers who made such donations. One study said the following:
An estimated 4,300 charities have vehicle donation programs, based on a GAO survey of 157,500 charities with revenue of $100,000 or more. Taxpayers claimed deductions for donated vehicles on about 733,000 of the 4.4 million tax year 2000 returns filed with noncash deductions over $500, lowering taxpayer liability by an estimated $654 million. For the charities surveyed, proceeds from vehicle donations ranged from $1,000 for one charity, to $8.8 million for another. However, proceeds generally constituted a small share of total charity revenue for the majority of charities GAO reviewed. In addition, for two-thirds of the 54 specific vehicle donations GAO examined, charities received 5 percent or less of the value donors claimed as deductions on their tax return. Differences in proceeds received by the charity and value claimed by a taxpayer were due in part, to vehicles being sold at auctions at wholesale prices, and proceeds being reduced by vehicle processing and fundraising costs. Due to a lack of available data on the condition of donated vehicles, GAO could not determine whether taxpayers appropriately valued their vehicles when claiming associated tax deductions. The IRS has some activities designed to detect noncompliant claims for noncash deductions, including vehicle donations. However, the IRS has not pursued potential leads from these activities because tax revenue yields are less than other potential noncompliance cases, such as abusive tax shelters. IRS's ongoing National Research Program study may provide information on how to deal with donated vehicle compliance issues. Also, an IRS task force drafted recommendations for improving IRS's oversight of charities' donated property programs. State officials have filed legal actions in a number of cases involving problems with vehicle donation programs, such as an individual soliciting vehicle donations for fictitious charities.
The Congress responded with legislation in the American Jobs Creation Act of 2004 that attempted to limit the extent to which taxpayers could claim inflated deductions based on vehicle donations.  The Act added IRC 170(f)(12), which generally limits the amount of the deduction to the price the charity later sells the car for.  The Service also issued Notices 2005-44 and  2006-1 both of which provide background details on 170(f)(12). 
The "Cash for Clunkers" Act is a stimulus bill of sorts for the auto industry and, at the same time, designed to get less fuel efficient cars off the road for good.  Its official name is the "Consumer Assistance to Recycle and Save Program.  The gist of it is this:
Under the program, consumers may trade in their older vehicles and receive vouchers worth up to $4,500 toward the purchase or qualified lease of a new, more fuel-efficient car or truck.  The program will be authorized from 7-1-09 to 11-1-09 and will provide for approximately 250,000 new car or truck purchases. 

According to the Drive America Forward Bill the below summarizes the terms of the program:

Be in drivable condition
Be continuously insured and registered to the same owner for at least one year
Have a combined fuel economy value of 18 mpg or less (Work trucks must be pre-2002 regardless of mpg)
Not be more than 25 years old with historic or aesthetic value. These vehicles are valued by hobbyists or are a valuable source of restoration parts.
The replacement vehicle must cost less than $45,000 and get at least 22 mpg, among other requirements.   According to this NPR report, though, (audio version) the program has had the unintended effect of hurting charities that actually rehabilitate old cars and give them to poor people who cannot afford to buy a car with which to drive to work.  Apparently, not all charities that buy old cars were knowingly, if not passively participating in a scheme to inflate taxpayer's charitable contribution deduction.  Some charities were actually putting old cars to good use -- getting transportation for poor people who just want a way to get to work!  Other charities are complaining because even with the tighter new rules enacted in 2004, people were still donating old cars to charities and those charities were selling the cars for needed cash. 
Some charities complain that the program will put a financial strain on them when donations have dropped because of the recession. Most donated cars aren't given away; they're sold. And the proceeds go to charities. "There's a whole industry that helps support the charities, including the auctions, tow truck drivers, telephone answering personnel; and all of those people are going to be hurt," says Pete Palmer, a co-founder of the Vehicle Donation Processing Center, which handles the sales of donated cars for 400 charities. Donors can take tax deductions for the small amount charities usually get for those sales. Somebody has to be pretty darn altruistic to do a car donation over the cash for clunkers program if they want the new car," Palmer says. Palmer and some charities are lobbying against an effort to extend the cash for clunkers program, which is scheduled to expire Nov. 1.
I guess it only goes to show that legislating completely good outcomes is a complicated endeavor.  The Cash for Clunkers program seems very limited in scope -- not many cars, for example, get less than 18 mpg these days -- but even so it is apparently hurting the ability of charities to help poor people get transportation and other needed goods and services.  I am sure nobody thought that would be the case -- automobile workers get rehired while other workers lose jobs for lack of transportation. 
dkj
July 15, 2009 in Federal – Legislative | Permalink | Comments (2) | TrackBack
July 14, 2009
Philly Nonprofit Under Scrutiny
The other big story in Philadelphia today is that former State Senator Vince Fumo will be sentenced today on corruption charges.  A side story, but an important one, is that part of Fumo's political empire, when there was an empire, was a nonprofit he created called Citizens Alliance for Better Neighborhoods. Created in 1991 to address trash removal problems, the nonprofit received $17 million from Peco Energy Corp. as part of a settlement of a case heard by the Public Utility Commission.  The nonprofit began investing in real estate and now owns a lot. The organization's IRS statement listed its 2007 assets as nearly $18 million, including $7 million in a for-profit holding company.  
In April, the Attorney General filed a suit to require an accounting, to surcharge Fumo and board members for any waste and mismanagement, to revoke the organization's corporate status, and to sell or distribute the assets.  Just last week, the organization responded, arguing that "the attorney general has no right to inspect its records or demand an accounting, no legal basis for a surcharge, no authority to seek the board's removal and offers no evidence to prove any fraud to revoke its corporate status."  The Attorney General's office has pointed out that the original mission of the organization was to help neighborhoods and it's now more of a real estate management company.  Indeed, the new acting executive director is quoted as describing the mission as "mostly 'managing real estate.'"
sng
July 14, 2009 in State – Executive | Permalink | Comments (0) | TrackBack
Valley Swim Club Update - Federal Lawsuit?
The Philadelphia Inquirer reports today that the Creative Steps day camp and about 45 families of campers may file a federal discrimination lawsuit against the Valley Swim Club.  As reported yesterday, the Valley Swim Club voted to invite the day camp back to the pool, but the campers are disinclined to return to a hurtful situation.  One camper described the reception at the pool as "ignorant and mean" and another said, "I don't want to go through that again."  Stay tuned.
sng
July 14, 2009 in In the News | Permalink | Comments (0) | TrackBack
Obama Nominates Nonprofit Health Care Provider for Surgeon General: Not all Nonprofit Health Care is Alike
President Obama's Surgeon General nominee, Dr. Regina Benjamin (shown above) is probably much more a representative figure for what tax exempt nonprofit health care should be than are the larger, incredibly wealthy academic medical centers that are usually skewered by the likes of Senator Grassley and others.  According to an
NPR report:
President Obama on Monday nominated Alabama family practice physician Regina Benjamin — known for her efforts to rebuild a nonprofit medical clinic destroyed by hurricanes and fire — to serve as the surgeon general. At an appearance before reporters in the Rose Garden, Obama praised Benjamin's dedication to serving impoverished Gulf Coast residents in the fishing community of Bayou La Batre, Ala., saying she opted to open a nonprofit clinic on the Gulf Coast rather than moving to an area where she could make more money.

 
Dr. Benjamin, a MacArthur Genius Award recipient, is also a member of the board of trustees of the Catholic Health Association, and the American Medical Association Board of Trustees. 
The Catholic Health Association website 
is rightly gushing with pride today about the nomination.  She used her $500,000 McAarthur Genius Award to rebuild the 
Bayou La Batre Rural Health Clinic
after it was destroyed by hurricane Katrina.  I wish I was like that.  I would have given money to family and some to my church but you better believe I would have bought me something big and useless.  But then again, normal people don't get McArthur grants.  My real point, one made more eloquently by Professor Colombo, I think, is that "nonprofit health care" is a poor term to describe the universe of tax exempt health organizations.  One thinks of beautiful lakefront hospitals like Northwestern University's architectural masterpiece shown below.  Their garages, at least the spaces reserved for doctors are typically filled with European luxury sedans. 
Don't get me wrong.  I am not necessarily for taxing academic medical centers or even rich non-academic medical centers.  I just think we need to make distinctions between different species.  Here is a picture of Dr. Benjamin's rebuilt clinic, where you are more likely to find a patient's bicycle parked out front:
dkj
July 14, 2009 in Federal – Executive | Permalink | Comments (0) | TrackBack
More Evidence of trend towards increased local taxation of Nonprofits
Another state court has imposed local taxes on nonprofits, providing more evidence that state and local governments are looking greedily towards nonprofits as means to shore up budget deficits.  In Wisconsin, a Wukesha County Judge ruled, after a three year court battle, that a nonprofit health care provider must pay taxes on all of its office equipment, according to the Milwaukee Journal Sentinel:
Waukesha County Circuit Judge Michael O. Bohren determined that ProHealth Care could be taxed on its headquarters because the corporation supports many for-profit ventures and because it does not pass a litmus test as a "benevolent" organization. The leader of a statewide coalition of 170 nonprofit groups said the case appears to represent the latest example of government tax collectors turning to nonprofit entities to replenish depleted tax coffers. "That's a topic that's rising," said Deborah Blanks, president of the Wisconsin Nonprofits Association. "That's something that a lot of nonprofits are going to have to look at."
 The following blurb is particularly ominous for nonprofits resisting local taxation:  
Attorney Stan Riffle, who represented the City of Pewaukee in the case, said he suspects ProHealth Care hoped to establish a precedent in Pewaukee that could be used later to seek property tax exemptions in other communities where the company has property. Instead, Riffle said, the ruling likely will embolden other municipal tax assessors faced with nonprofit property owners trying to avoid paying taxes. "Obviously assessors talk to one another," he said. "The word of this decision will get around."
The sentiment towards increased local and even national taxation of tax exempt nonprofits is fueled not only by the pragmatic need for government funding but also by an implicit, widely held belief or stereotype that nonprofits are getting away with tax fraud, a sentiment expressed in this Athens (Georgia) Banner-Herald op-ed piece:
Charitable organizations are part of the basic fabric of American life. There is a nonprofit for just about any cause or concern, often with all sorts of subspecialties. Each was developed to provide a service, even if it's only for one individual with special needs. Because we believe they are important to our collective well-being, we have exempted them from certain requirements of the tax code, including local and state property taxes and state and federal income taxes. Recent news stories about whether Nu i's Space, which provides services to local musicians, should pay property taxes (probably not, in my view) or how Angel Food Ministries, an area-based Christian food charity, provided millions in loans and housing to its founder, could well be warning signs for taking another look at requirements and limitations of these charities. The lines may not be drawn the right way. . . .

In our attempt to foster the American spirit of volunteerism, we have created a system full of loopholes and potential for serious fraud and abuse. With little effort, I could set up my own nonprofit - call it Myra's Garden, located in my own backyard. The purpose is environmental education. I could get three of my friends or family members to agree to serve on the board of directors and give a couple of children's programs each year, maybe for my three grandchildren or a couple of neighborhood kids. I then could apply for grants and seek tax-deductible contributions to help with my garden. My garden property could become tax-exempt. Once I generate enough income, I could begin to pay myself a salary, all for working in my yard and throwing a kids' garden party each year. I could charge all my plants, tools and fertilizers to Myra's Garden. Someone probably would (and should) suggest the IRS or state of Georgia take a closer look at what I'm doing. However, as long as my reports are in order and I remit payroll and sales taxes on time, no government agency is likely to come looking into my little scheme. Sadly, this kind of abuse is widespread in our nation. It's time to take a cold, hard look at what it means to be a "charity." It's time we carefully review the rules for nonprofit status and figure out how, as a community and a nation, we provide the appropriate incentives and supports while eliminating misuse and abuse of tax-exempt status.
This cases are seemingly few, far between, and of little consequence.  But as I said in my immediately previous post, they represent a disturbing devaluation of nonprofits everywhere.  I suppose its easier to tax nonprofits but in the long run the strategy is counterproductive if one assumes that the revenues lost by nonprofits will be less effectively or efficiently, and more uniformly spent after being sifted through government mazes.
dkj
July 14, 2009 in State – Judicial | Permalink | Comments (0) | TrackBack
Providence Considering Taxing Private Colleges and Nonprofit Hospitals
A new wrinkle is emerging in the state law trend to impose PILOTS on tax exempt instituions in a quest to make up budgetary shortfalls.  Now, local municipalities are getting into the act.  According to the Providence Journal, the Providence City Council is initiating a study on how to squeeze money from local nonprofits:
 The City Council on Thursday agreed to establish a commission to study tax-exempt institutions. Councilman John J. Lombardi, D-Ward 13, who sponsored the resolution, says the goal is to come up with a uniform plan for collecting compensation for city services. Lombardi says the new panel is modeled on a 2003 council commission to study tax-exempt institutions. Shortly after the formation of that commission, Mayor David N. Cicilline signed a landmark compensation agreement with the city's four private universities that gives the city $48 million over 20 years. Local hospitals were not parties to the agreement.
The trend is interesting because of its use of euphemisms and the implications for the independent sector if things really get out of hand.  A euphemism, it should be remembered, is an "inoffensive or indirect expression that is substituted for one that is considered offensive or too harsh."  Its like urinating out of a high rise window and telling the people below that its raining.  Some local governments call the velvet gloved fisted requests "payments in lieu of taxes," others call them "impact fees."  But, with apologies to Shakespeare, a tax by any other name is still a tax.  The trend therefore ought to be called what it is, a creeping repeal of tax exemptions spurred on by expediency rather than reasoned consideration.  A tax on "tax exempt organizations!  Why hide that fact?  Probably because legislators don't want to just admit that they are taxing charities.  The issue, by the way, is much more than that some charities are sitting on large endowments.  It is more akin, I think, to the government taking over the press.  Hyperbole?  Maybe.  But charities comprise the "independent sector" because they offer criticism, implicit or explicit, to orthodoxy.  A different solution, usually bottom-up rather than top-down.  Of course, there is nothing that says government has to allow for tax exemption.  But tax exemption has been in the federal tax code since its inception most probably because of an implicit recognition of the value of bottom up, grass roots problem solving.  I don't mean to sound Reaganesque.  Even Obama agrees that it is good to nurture grass roots movements alongside "big government."  But if we keep taxing nonprofits, by some other name or not, we will soon have only the latter (top-down problem solving) and none of the former (bottom-up solving). 
dkj
July 14, 2009 in State – Legislative | Permalink | Comments (0) | TrackBack
July 13, 2009
Valley Swim Club Invites Minority Campers Back
Just so I am not accused of printing the sensationally bad but not the good or decent, I wanted to inform readers of an update to my post regarding the Valley Swim Club in suburban Philly.  At a "hastily called" meeting on Sunday, the Valley Swim Club Board of Directors decided to re-invite the kids back to the pool.  According to the Philadelphia Inquirer:
"The board decided we would reach out to [the city camp] Creative Steps to . . . get the kids back to the club in a safe environment," John G. Duesler Jr., president of the Valley Club in Huntingdon Valley, said last night . . . Asked why the club was reversing course, Duesler said, "Because it's the right thing to do."
I doubt the kids will take the swim club up on their offer (I wouldn't want my girls to go back to the scene of the crime), but I am willing to accept their implicit apology.  I think when peoples' ignorant prejudices are exposed and they educate and reform themselves they should be left alone.  Now go and sin no more! 
dkj
July 13, 2009 in In the News | Permalink | Comments (0) | TrackBack
ABA CLE on Director Liability
The Business Law Section of the ABA will hold a teleconference and live audio webcast on Wednesday, August 12, 2009, 1:00 Eastern time, titled:
Responsibilities and Duties of Directors of Nonprofits:  How to Limit Your Liability
The CLE is free for the first 250 members of the Business Law Section, $55 for other Business Law Section members, $110 for ABA members, and $125 for everyone else.  To get more information and to register, go
here
.
sng
July 13, 2009 in Conferences | Permalink | Comments (0) | TrackBack
AIG Bonus Fund Stays in Foundation
Some years ago, Starr International Company was created, its assets used primarily to pay bonuses to employees of AIG.  The boards of the two companies - AIG and Starr - were the same, and Maurice R. Greenberg headed both companies.  IN 2005 Greenberg was forced out of AIG, and shortly therefore he ended the bonus plan. In 2006 the assets of Starr International Company were transferred to Star International Foundation, which now owns Starr International Company.  The Foundation makes charitable grants and has made over $27 million in grants since it was created.  
The
Chronicle of Philanthropy
describes the outcome of a federal jury trial that determined that assets were not improperly removed from the AIG bonus plan and transferred to the Foundation.  Starr produced documents that showed that the funds had "long been held in a charitable trust" and that the assets held in the charitable trust were transferred to the Foundation, but the article does not explain the connections between the charitable trust and the bonus plan.
The judge will issue a final ruling, taking the jury's decisions into consideration, by the end of August.
sng
July 13, 2009 in Federal – Judicial | Permalink | Comments (0) | TrackBack
Joint Venture for Affordable Housing
Nonprofit Moorestown Ecumenical Neigborhood Development, Inc., a New Jersey nonprofit organization, and Conifer Realty, a development company have teamed up to create an affordable-housing development with 104 units, wetlands, trees, and a lake.  MEND had the community experience and Conifer brought a strong financial background, access to outside capital, a large staff and a construction partner.  Together they created a $20 million development and will continue to work together on other projects.  The difficult credit market makes these joint ventures more common, but in the affordable-housing sector, the nonprofit/for-profit joint venture may prove to be a good way to go  even after the economy recovers.
sng
July 13, 2009 in Current Affairs | Permalink | Comments (0) | TrackBack