Saturday, July 18, 2009
Yesterday, in American Academy of Religion v. Napolitano, the 2nd U.S. Circuit Court of Appeals reversed a lower court ruling upholding the denial of a visa to a Muslim scholar on the basis of his $1300 contribution to a charity suspected of supporting terrorist.  The opinion is summarized in today's New York Times :  
A federal appeals court in Manhattan on Friday reversed a lower-court ruling that had allowed the government to bar a prominent Muslim scholar from entering the United States on the ground that he had contributed to a charity that had connections to terrorism.  The scholar, Tariq Ramadan, 46, a Swiss academic, was to become a tenured professor at the University of Notre Dame, but the Bush administration revoked his visa in 2004 and again denied him a visa in 2006. The government cited evidence that from 1998 to 2002, he donated about $1,300 to a Swiss-based charity that the Treasury Department later categorized as a terrorist organization because it provided money to Hamas, the militant Palestinian group.  
The American Civil Liberties Union's press release states:  
Ramadan was invited to teach at the University of Notre Dame in 2004 but the U.S. government revoked his visa, citing a statute that applies to those who have "endorsed or espoused" terrorism. In January 2006, the ACLU and the New York Civil Liberties Union filed a lawsuit challenging Professor Ramadan's exclusion on behalf of the American Academy of Religion, the American Association of University Professors and the PEN American Center. After the ACLU filed suit, the government abandoned its claim that Ramadan had endorsed terrorism, but it continued to defend his exclusion on the grounds that he had made small donations to a Swiss charity that the government alleged had given money to Hamas.
There is logical appeal to the notion that the government should vigorously pursue terrorists, using every legal tool at its disposal.  But relying on a $1,336.00 donation to a charity (the Association de Secours Palestinien or ASP) is tenuous at best.  I suppose a donation of even just a nickel to a terrorist organization is sufficient reason to initiate legal process to protect our families and our way of life.  All the more reason, though, that the government should dot every "i" and cross every "t" when it pursues those whose charitable contributions results in penal or even negative civil consequence.  By the way, the Bush administration issued an executive order labeling ASP a supporter of HAMAS terrorism in August 2003 and according to the Jewish Virtual Library:  
HAMAS raises tens of millions or dollars per year throughout the world using charitable fundraising as cover.  While HAMAS may provide money for legitimate charitable work, this work is a primary recruiting tool for the organization's militant causes.  HAMAS relies on donations from Palestinian expatriates around the world and private benefactors located in moderate Arab states, Western Europe and North America.  HAMAS uses a web of charities to facilitate funding and to funnel money.  Charitable donations to non-governmental organizations are commingled, moved between charities in ways that hide the money trail, and then often diverted or siphoned to support terrorism. The funds pouring into HAMAS coffers directly undermine the Middle East peace process.  These funds allow the group to continue to foment violence, strengthen its terrorist infrastructure, and undermine responsible leadership.  The political leadership of HAMAS directs its terrorist networks just as they oversee their other activities.  HAMAS leader Yassin confirms this relationship, stating to al-Sharq al-Awsat on August 12, 2002: "When we make decisions on the political level and convey them to the military wing, it abides by it normally."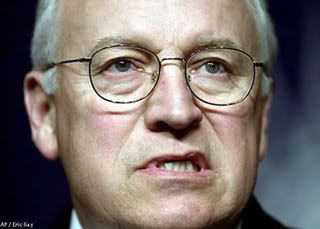 The document goes on to argue that ASP is basically a fundraiser for HAMAS in Switzerland and has collected "large amounts of money from mosques and Islamic centers, which it then transfers to suborganizations of Hamas."  Though it is easy to dismiss former Vice President Cheney as a scowling lunatic, its perhaps naive to dismiss his ill-articulated fear and sentiment in a dangerous world.  After all, Cheney was alone in voting against sanctions for South Africa.  My own opinion is that he is not a racist, he is just willing to step on anybody regardless of race or nationality, not to mention the Constitution, to protect the American way of life (as he understands it).  So while he is a poor spokesperson at best, his ultimate goal is grounded in our shared belief in the rights of all to the pursuit of happiness. 
On the other hand, it could be dangerous to accept the "feel good" theology that President Obama (and me too) want so badly to embrace.  The notion that perhaps there are real injustices to which the Palestinien people object and therefore we ought to simply assume the complete opposite of Cheney's view -- that Islamic charities invariably support terrorism -- can legitimately be described as Utopian and maybe even dangerous.  Certainly, real terrorist exploit our tendency to want to believe that all people are basically good and mean no harm.  In the past, I have railed against what the ACLU has termed as knee jerk, racist inspired responses to the allegation that a charity that merely seeks humanitarian goals for "the other side" must invariably be fronts for terroism financing.  But American Academy of Religion v. Napolitano requires that we face the difficult task of distinguishing between terrorism and charity.  Suppose the petitioner's small $1300 donation was used to purchase a glock or a suicide vest?  How to make the distinction without trampling on the Constitution is harder to do than simply expressing revulsion and summarily dismissing Cheney-esque responses.  At the least, though, we better comply with even the most technical requirements of due process, lest our fear turn us into suit wearing terrorists ourselves.
dkj
http://lawprofessors.typepad.com/nonprofit/2009/07/2nd-us-circuit-court-of-appeals-reverses-lower-court-ruling-excluding-muslim-scholar-on-basis-of-133.html