Saturday, January 4, 2014
At yesterday's panel on urban resilience there was a discussion of New York City's post-Sandy plan to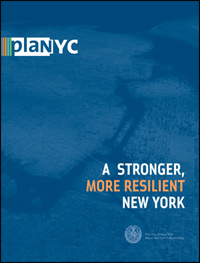 make the nation's largest city more resilient to climate change and big weather events.  The report, A Stronger, More Resilient New York, is a surprisingly approachable document.  Two sections that I imagine would be especially interesting to this blog's readers are the "Funding" and "Implementation" sections, the latter of which provides hundreds of specific policy action items that bring resilience theory down to "punch card" reality.  Well worth a look.
Stephen R. Miller
http://lawprofessors.typepad.com/land_use/2014/01/blogging-aals-nycs-resilience-plan.html

This blog is an Amazon affiliate. Help support Land Use Prof Blog by making purchases through Amazon links on this site at no cost to you.
Join Amazon Prime - Watch Over 40,000 Movies
Recent Comments
Recent Posts
Categories
Monthly Archive