Wednesday, April 23, 2014
Here's a terrific article (anyone who is dubious of its claims is welcome to visit their nearest Barnes and Noble this weekend and to peruse the children's section).  It begins:  
The Let Toys Be Toys campaign, which last year persuaded 13 retailers to remove "Boys" and "Girls" signs from stores, is working with Letterbox Library, Inclusive Minds and For Books' Sake to persuade the publishing industry to drop these labels from books. The Let Books Be Books petition launched for World Book Day, 6 March, asks children's publishers Usborne, Buster Books, Igloo Books and others to stop labelling children's activity, story and colouring books as for boys or for girls.
More: 
Typical themes for boys include robots, dinosaurs, astronauts, vehicles, football and pirates; while girls are allowed princesses, fairies, make-up, flowers, butterflies, fashion and cute animals. There's nothing wrong with these things, but it is wrong when they are repeatedly presented as only for one gender. Girls can like pirates and adventure, boys can like magic and dressing up. Why tell them otherwise? Why tell them that boys and girls should like different things, that their interests never overlap, that there are greater differences between genders than between individuals?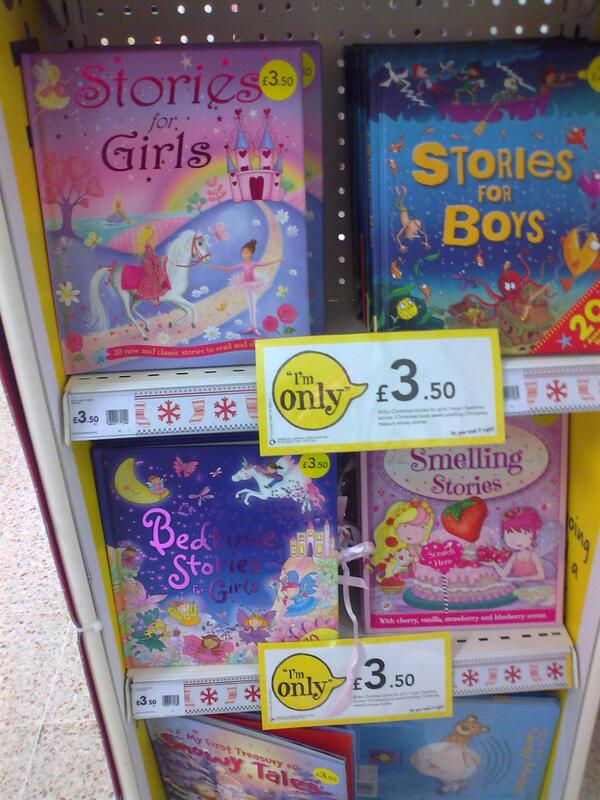 http://lawprofessors.typepad.com/gender_law/2014/04/gender-stereotypes-persist-in-childrens-books.html