April 30, 2013
Unsucessful Law Professor Job Applicant Loses Discrimination Case
(Dobkin v. Univ. of Iowa,  Iowa Ct. App.  No. 2-1096/12-1012,  2/13/13) is an interesting case. The court held that the lower court  properly denied admission of an article from a law journal newspaper written by a witness for the age-protected job applicant who was denied an employment offer at the law school, despite contentions that opinions contained in the article were based on empirical evidence and that the law school "opened [the] door" for the article's admission, where the article was inadmissible hearsay with no applicable exception. 
One of these days law schools are going to start to get hit for institutional age discrimination.
Mitchell H. Rubinstein
April 30, 2013 in Employment Discrimination, Law Professors | Permalink | Comments (0)
April 03, 2013
Richard Bales Named Dean At Ohio Northern
I am delighted to report that Richard Bales, Professor at Northern Kentucky Law School, and someone who I consider to be a friend, has just been named Dean at Ohio Northern Law School.
Readers should all be familar with Professor Bales. He is the editor of Workplace Prof Blog and an accomplished scholar whom I look to often. A press release from Ohio Northern University which provides a summary of Prof. Bales' career is available here.
Once again. Congrats. Well done.
Mitchell H. Rubinstein
April 3, 2013 in Law Professors, Law Schools | Permalink | Comments (0)
March 18, 2013
SMU Law: Federal Circuit and Patent Law Symposium
The SMU Dedmon School of Law will host its 10th Annual Symposium on Emerging Intellectual Property Issues on March 22, 2013, with a presentation titled "The Federal Circuit and Patent Law."  The one day symposium includes four panel discussions - The Federal Circuit's Stewardship of Patent Law: A View from the Bench; Institutional Roles: The Federal Circuit and the Supreme Court; Allies or Competitors: The Federal Circuit and the U.S. Patent and Trademark Office; and Innovation, Disruptive Technologies and the Federal Circuit.  Bernard J. Knight, Jr., General Counsel, U.S. Patent and Trademark Office is scheduled to deliver the luncheon and keynote address.  A complete brochure for the symposium is here.
March 18, 2013 in College Professors, Conferences, CLE, Conferences, Faculty, Federal Law, Judges, Law Professors | Permalink | Comments (0)
March 13, 2013
Texas Tech Law Review to Host Juveniles & Criminal Law Conference
The Texas Tech Law Review will host its 7th Annual Criminal Law Symposium: Juveniles & Criminal Law, on April 5, 2013, at the Mark and Becky Lanier Auditorium on the law school campus.  The program as presented on the law review website:
Keynote Address:  Franklin Zimring (Boalt)
Panel 1:  When are (should) juveniles (be) tried as juveniles and when as adults?
Ellen Podgor, Moderator (Stetson)
Carissa Hessick (Arizona State)
Janes HJoeffel (Tulane)
David Pimentel (Ohio Northern)
Christopher Slobogin (Vanderbilt)
Lexis/Nexis Luncheon Speaker:  Arnold Loewry (Texas Tech)
Panel 2:  Do (should) juveniles have more, less, the same, or different rights?
Richard McAdams, Moderator (Chicago)
Ronald Allen (Northwestern)
Tamar Birckhead (North Carolina)
Patrick Metze (Texas Tech)
David Tanenhaus (UNLV)
Panel 3:  What is (should be) the scope and limitations of juvenile punishment?
Joshua Dressler, Moderator (Ohio State)
Joseph Kennedy (North Carolina)
Michael Perlin (New York)
Kevin Saunders (Michigan State)
The Honorable Irene Sullivan (State of Florida)
March 13, 2013 in Conferences, CLE, Conferences, Faculty, Criminal Law, Law Professors, Law Review Articles | Permalink | Comments (0)
September 28, 2012
Davidoff, The Economics of Law Schools, and Adjunct Faculty
There has been much written in the blogosphere about Steven M. Davidoff's essay in the New York Times earlier this week as well as to Paul Campos's response to it, and I do not have much to add other than to say that I have just read the online comments to the Davidoff piece and I found there a substantially positive review for the value that adjunct faculty brings to the overall law school educational experience.  This seems worth observing here, this being the Adjunct Law Profs Blog and all.
September 28, 2012 in Law Professors, Law Schools | Permalink | Comments (0)
September 16, 2012
Call For Papers Central States Law Schools Association
The Central States Law Schools Association 2012 Scholarship Conference will be held October 19 and 20, 2012 at the Cleveland-Marshall College of Law, in Cleveland, Ohio.  We invite law faculty from across the country to submit proposals to present papers or works in progress.
 The purpose of CSLSA is to foster scholarly exchanges among law faculty across legal disciplines.  The annual CSLSA conference is a forum for legal scholars, especially more junior scholars, to present working papers or finished articles on any law-related topic in a relaxed and supportive setting where junior and senior scholars from various disciplines are available to comment.  More mature scholars have an opportunity to test new ideas in a less formal setting than is generally available for their work.  
        Additional details about this important conference can be found by downloading  Download CSLSA 2012 Conference Announcement Blog Posting
Mitchell H. Rubinstein
September 16, 2012 in Law Professors, Law Review Articles | Permalink | Comments (0)
September 09, 2012
Foreign Law Professor Faces Jail For Having Sex With Student In Exchange For A Good Grade
A Singapore law professor has been charged with having sex with a student twice in exchange for a good grade. What is interesting is that the professor faces jail and a large fine. Here in the states, the professor would only be fired. Additional details can be found in the Straits Times
Above the Law as a video of this professor where he proclaims his innocence.
MItchell H. Rubinstein
Hat Tip: Above The Law
September 9, 2012 in Law Professors | Permalink | Comments (0)
August 15, 2012
Rostron and Levit Law Review Submission Process
Professors Rostron and Levit recently updated their law review submission SSRN article which contains two useful charts. The first covers: 
Methods for submitting an article (such as by e-mail, ExpressO, or regular mail);




· Any special formatting requirements;




· How to request an expedited review; and




· How to withdraw an article after it has been accepted for publication elsewhere.
The second covers ranking information from US News and World Reports and Washington and Lee ranking study.


To be honest, I never found this information helpful as I just submitted
through Expresso and then chose the review based upon US News ranking.
I can see how some may find this info useful, however, Note, only a law school's main line law review is included. 
202 law schools are included. It can be downloaded at no charge here.
Mitchell H. Rubinstein




August 15, 2012 in Law Professors, Law Review Articles | Permalink | Comments (0)
August 12, 2012
ABA To Examine Legal Education
An August 8, 2012 article from the National Law Journal, here, indicates that the ABA and other bar associations are studying legal education. 
Reform is badly needed. Law schools are run by professors who, for the most part, are not competent to practice law. Yes, they are bright and have those ivory degrees. But, how many of them ever represented a client, performed a deposition or answered a complaint?? Sadly, law schools today are not concerned with hiring professors with experience. They are more insterested in having their faculty produce law review articles that no one reads.
Think I am joking. Pick a law school and pick a professor hired within the last 10 days. Do a lexis or westlaw search and take a look at how many cases they made an appearance in. Amicus briefs do not count.  Amicus briefs for professors are better than nothing, but just barely.  I will give you one better. Take a look at the faculty in your school. How many of the professors are not even admitted to the bar in the state where the law school is located? States like NJ, where law professors (but not college professors) can waive in do not count. 
Mitchell H. Rubinstein
August 12, 2012 in Law Professors, Law Schools | Permalink | Comments (0)
February 28, 2012
The Problem With Student Evaluations
Adjunct Professor Tim Edwards, University of Wisc. Law School sent in an excellent commentary on student evaluations which is applicable to full-time faculty. I could not agree more with the below statements. It is a bit long, but stay with it as it is well worth it:
____________________ 
Student Evaluations
Timothy Edwards
Axley Brynelson, LLP 
I write to share my thoughts about the use of student evaluations to evaluate instructor performance at my Law School.  I have taught here, as an adjunct, for over ten years.  During that time, I have taught Legal Writing, Advanced Legal Writing, Civil Procedure I, Civil Procedure II, Pre-Trial Advocacy and Professional Responsibility.  The purpose of this document is to inspire discussion, not to offend.  
As an adjunct, I am removed from the day to day discussions within the Law School, including those pertaining to student evaluations.  When I started, I was not provided with any training.  I received no feedback regarding my teaching from any of the Faculty Members at the Law School.  I often invited members of the faculty to sit in and evaluate my teaching, but it never happened.  From what I understand, this is common in most law schools that rely on adjuncts, both to teach and to keep institutional budgets in check. I am not suggesting that this approach is wrong, only that it has consequences.     
Absent such an evaluative process, the only feedback that I have received comes from student evaluations.  Most of the time my evaluations are quite good.  More recently (and for reasons that I will explain), my evaluations have suffered, due in some measure to my own actions.  Unfortunately, it appears that these evaluations are the only tool that the Law School relies on in measuring the performance of its adjunct lecturers.  To the extent another metric is being used, I have not been told about it, nor have I seen it in my classroom. 
My thesis, which is not wildly unique, is very simple:  Absent some corroborating tool to evaluate instructor performance, student evaluations are an inherently unreliable and misleading source of information for purposes of measuring the effectiveness of an instructor.  While student evaluations can provide objective information (i.e., whether the instructor is on time, intoxicated, treats the students appropriately or appears to be organized), law students are not equipped to objectively evaluate the value of their own learning experience, or the skills of the instructor, when they complete their evaluations.  Their evaluations should not be used for this purpose.  
From what I understand, one central objective for the Law School is for its instructors to teach the students how to analyze legal problems and prepare them to practice law.  I believe that this requires, among other things, instruction regarding analytical and practical skills that the students will actually use when they become lawyers.  This emphasis has been confirmed by recent studies, and consistent commentary, which criticizes the significant gap between theory and practice that pervades our law schools.  I have observed this gap, and its impact on young lawyers, who are often unprepared for the practice of law when they graduate.  Many students who graduate from the UW Law School do not even know how to cite a case or prepare a basic pleading (as I teach pre-trial advocacy, the blame for some of this should rest squarely on my shoulders).  We have seen this over and over at our Firm, to the point that some of my partners are reluctant to hire from law schools that do not have a comprehensive legal writing program.     
As an adjunct who litigates, full time, in his "real life," one of my primary goals is to impart some practical knowledge/skills to my students.  Students need to understand that the law, as written, is often applied much differently.  Students need to understand (and acclimate to the fact) that the practice of law is demanding and, in many ways, unforgiving.  Problems do not have easy answers, and they don't always have "right" answers.  Deadlines become critically important, as is timing.  Confusion is common, as clients, judges, senior partners and opposing counsel often make it difficult to solve problems involving competing interests and effectively represent a client.  This is a very difficult job with tough challenges that cannot always be resolved by reading a book or looking up a statute.  The students need to know what they are signing up for, and to the extent possible, they should be prepared to follow through.  Of course, this should be done at the appropriate time in their education.  
Some basic thoughts: 
A law school student (especially in her first year) typically has a very narrow set of objectives.  Generally speaking, she wants to get a good grade.  She wants to know what will be on the test, or what I am looking for in a given writing assignment.  She wants to figure out the easiest possible way to get a good grade by doing well on that task, and she wants immediate, detailed feedback on any work she does because she is scared.  As a general matter, these students believe that grades are everything, and they are rarely interested in whether they are learning how to be a good lawyer unless it helps them get a better grade.  In the meantime, they resist confusion, perceived inconsistency or anything else that detracts them from the most efficient path to a good grade.  While this description is somewhat magnified it is, for the most part, accurate.  The pressure to perform well and secure a good grade defines their objectives in many critical ways. 
As a law school instructor, my objectives are much different.  While I want everyone to succeed, I am less concerned about whether the students are confused or struggling to address a problem.  I tell them how litigation works.  We apply the rules to different situations and I often ask them questions that do not have an easy answer—questions that require the application of judgment, not just knowledge.  I require the students to meet deadlines, and I require them to rewrite assignments that are done poorly.  I don't accept a lot of excuses and I expect a lot from them.  At the risk of being truly unpopular, I now ban laptops unless used for note-taking purposes.  In addition, I no longer buy them pizza.     
I also focus on problem solving.  Setting aside the first few weeks, I do not "spoonfeed" information from the book or hold the students' hands through every single issue in the reading material.  As a result of this, the students become frustrated, but their learning experience is much different.  It seems likely that my evaluations dropped because I am doing a better job of teaching and the students are, in fact, learning more.  In any case, the evaluations tell me nothing about whether I actually did my job. 
In years past, I have often received very favorable evaluations.  In every single one of those situations, I tried to align my teaching style with the students perceived expectations and needs.  I "taught to the test" (or in legal writing, spoonfed what I expected on the writing assignment) and did everything I could to placate their needs and expectations (a "consumer" model, if you will).  In retrospect, I view this approach as ineffective, and I view the evaluations as somewhat useless because they appear to reflect the student's comfort level more than anything else. 
Last spring, I taught evidence.  Unfortunately, my work commitments distracted me from the class, and I was frequently absent.  The evaluations were low, and deservedly so.  The students complained about the absences and the resultant disorganization.  This is a perfect example of how student evaluations can be used, in limited instances, to identify objectively verifiable problems with instructor performance.  I deserved the criticism.    
This should not be a popularity contest.  Moreover, the Law School should not rely on student evaluations to determine whether the students are learning basic analytical and practical skills.  While students may have general, verifiable information to share, they are not presently qualified to assess our teaching skills, or for that matter, whether they actually learned anything in our classrooms.  I am not basing this conclusion on a fancy empirical assessment of student evaluations but, rather, common sense, years of teaching experience, and many years of reviewing inconsistent and misguided student evaluations that have done little to assist me as I search for new and more effective ways to teach. 
In addition to the fact that student evaluations cannot provide meaningful information regarding teaching skills or learning, they are also inherently unreliable.  Consider this by applying the Federal Rules of Evidence, which are designed, as a core value, to exclude unreliable information to prove a given assertion.  Setting aside the fact that evaluations may not be probative of teaching skills or learning, many are insulting, false and otherwise prejudicial.  More importantly, student evaluations constitute inadmissible hearsay whose unreliability is compounded by the fact that the out-of-court declarant is completely anonymous.  Finally, no court would ever consider such random aspersions from an unknown declarant as competent character evidence.  Understanding that this comparison is limited because the Law School is not a courtroom, the application of these rules does reinforce a basic point regarding the inherent unreliability of student evaluations.   They would never see the light of day in a courtroom.  
I am not pretending that I have all of the answers, and only write this short paper to make a simple point:  it is not fair or wise to judge adjuncts solely through student evaluations.  The Law School should put other measures in place (peer mentoring, etc.) and provide continued training to all of its adjuncts.  The Law School should not tolerate an environment where students can surf the internet in class (without reading the assigned material) and then anonymously criticize his instructor for not being "engaging" or "organized."  To bridge the gap between theory and practice, students should be appropriately confronted with the realities of the practice of law, not placated when they are properly challenged.  While this may lead to lower evaluations, it will certainly lead to better lawyers.  
* * * * *
February 28, 2012 in Adjunct Information in General, Law Professors, Law Schools | Permalink | Comments (1)
August 18, 2011
A Law School Law Firm??? Yeah Right!!!
What if law schools opened their own law firms? is an interesting August 17, 2011 National Law Journal article. It reports on a law review article where two professors speculate about   law firms operated by law schools. The article also argues that traditional law school should be two in class years with the third year spend operating as a student attorney for this law school law firm.
What I find most significant is that the professors recognize that this law school law firm would have to be staffed by attorneys-not by the professors. The major problem with law school professors today is that many, if not most of them, are simply incapable of practicing law and many never had. But, this is what we have, for the most part, training the lawyers of the future.
Now, I suppose that the law schools will respond by stating that is what us adjuncts are for. Really; law schools should rely on the lowest paid members of the staff who have no say about admissions or curriculum or running the school. But, that is exactly what most law schools today do. 
What a system. I hope it changes, but I do not see any evidence of that in that virtually every law school is looking for the newly minted ivy P.hd. who also has a ivy law degree and may have done a federal clerkship for a year or two. 
Mitchell H. Rubinstein 
August 18, 2011 in Adjunct Information in General, Law Professors, Law Schools, News | Permalink | Comments (2)
August 14, 2011
New Type Of Civil Procedure Textbook
Prof Ben Madison's (Regent University School of Law) rearch assistant, Melissa Yatsko writes to inform us of a new type of Civil Procedure textbook. Civil Procedure For All States. The book has a Facebook page and a blog which I cannot access because you need an invitation. 
Professor Madison is interested in reaching out to all prof who teach Civil Procedure type classes and I applaud him for including adjuncts. If you would like to be involved you can send him an email at civpro4allstates@live.com.
This professor also runs a listserv designed for he book which is described as follows:
If you are a Pretrial Practice or State Civil Procedure professor and interested in becoming a member of the Pretrial Practice/State Civ Pro Listserv, where all can benefit from open discussions on teaching and share ideas, please email STATECIVPRO@LISTS.REGENT.EDU
I also applaud him for reaching out to others and forming a listserv. 
I have not seen the book so I cannot comment on it. Frankly, I am not sure if I support this type of text for civil procedure. One of my problems with legal education today (and of yesterday) is that the materials utilized in textbooks are often useless. What good is a casebook if it utilizes a case in Nebraska on one page and another from California on another-particularly in subjects such as employment law that vary widely from state to state?
Where the issue of law is largely a product of federal law, a text book on federal law is useful. Civil Procedure is one of those classes where an entire text can be devoted to FRCP. But to expand that concept to state law and to lump all the states together no less- is something that does not seem educationally sound. Now, I recognize that Civil Procedure is one of those classes where the law is similar in each of the states so if a textbook like this is to be written, then Civ Pro may be one of those classes where it can work. 
My idea of textbooks would be to make the practical to the practice of law. Students should be learning to practice law. So, a Civil Procedure textbook that concentrates on a particular state or FRCP seems more appropriate. Outside classes involving the FRCP, I recognize that most law schools do not follow this concept because they like to think of themselves as "national law schools" and because they do not really no where there students will practice. 
I do not buy this for a minute. I believe that most law school texts are written the way they are because the professors themselves are not competent to practice law. Many of them, perhaps almost all of the newer ones who just got that minted P.hd degree never practiced law or practiced only for a few years as an associate doing library research. I had occassion to review some CV's of professor candidates at a major law school. I was shocked to see they put their summer associate experience on their CV. To me that just demonstrates how thin their legal experience is. 
Prof. Madison's research assistant stated that he embrasses the  2007 Carnegie report and Best Practices for Educating Lawyers and therefore, he must be concerned with writing something useful and practical. He very well may be on to something and if you teach in this area his work is certainly worth a look. 
I do not teach Civ Pro and I do not claim to be an expert in this, but if others have any ideas feel free to comment. 
Mitchell H. Rubinstein
August 14, 2011 in Civil Procedure, Law Professors, Law Schools, Law Schools, News | Permalink | Comments (0)
July 08, 2011
Chief Justice Roberts Comments On Legal Scholarship Today
I am delighted to see that Chief Justice Roberts recently commented on contempory legal scholarship. The American Constitution Society Blog provides a picture of Chief Justice Roberts and summarizes his speech as follows:
Specifically Roberts claimed that legal scholarship is not relevant to the work of lawyers and judges, saying he is on the same pa
ge with Judge Harry T. Edwards of the U.S. Court of Appeals for the D.C. Circuit, who believes there is a great "disconnect between the academy and the profession."
Roberts continued, "Pick up a copy of any law review that you see, and the first article is likely to be, you know, the influence of Immanuel Kant on evidentiary approaches in 18th Century Bulgaria, or something, which I'm sure was of great interest to the academic that wrote it, but isn't of much help to the bar."
A law professor responded   "more often than not, published law review articles offer muscular critiques of contemporary legal doctrine, alternative approaches to solving complex legal questions, and reflect a deep concern with the practical effect of legal decision-making on how law develops in the courtroom."
Chief Justice remarks are right on point. The legal academy focus on theory and is largely composed of professors who never practiced law. Law schools look to hire someone with a JD/Ph.d from Ivy league school and give little weight to litigation or other legal experience. My own law review scholarship has been crticized by some as "practice orientated." Law review scholars often cite each other and some do not even cite cases. 
Everyone I talk with about this agrees that there is too much focus on theory. But when are the law schools going to change? Unfortunately, I do not see change happening. 
Mitchell H. Rubinstein
July 8, 2011 in Law Professors, Law Review Articles, Law Review Ideas, Law Schools, Supreme Court | Permalink | Comments (25)
December 23, 2010
Eric Schmertz Passes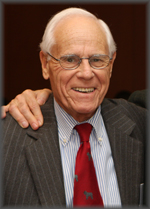 The New York Times reported on December 22, 2010 that Eric Schmertz passed away at age 84, here. Eric was one of the most respect labor arbitrators in the country and certainly, in New York. He was involved in many major private and public sector cases. He also served as NYC Labor Commissioner, as a Member of the NYC Office of Collective Bargaining and as a Member of PERB. But public service was only a small part of his life.
I first met Eric while a student at Hofstra Law School, while he served as Dean. It was a thrill meeting him because only a few years earlier I had used his text book Personnel Administration and the Law, (2d ed 1979) in college. It is one of the only, if not my only, college textbook that I still own.  
Eric was always very helpful to me in my professional career. While I was still a student, he took me with him to an arbitration and let me draft a decision. He then spent several hours with me explaining why he saw things differently and he was, of course, right. When I graduated, Eric was responsible for me getting my first job as an associate at a big firm. I will never forget that interview when the first thing the partner who interviewed me said "Eric Schmertz thinks your hot stuff."
A few years after I graduated from law school and after I left that firm, the first arbitration that I tried was before Eric. I have since tried hundreds of arbitrations. To this day, I remember that first one exactly. Eric went out of his way to explain his rulings and after the case was over, counseled me on my mistakes (and I made many; even though I won the case). 
As the years passed, I did not see Eric very often. In 2006, we appeared on a panel on arbitration at a conference in London England sponsored by St. John's Law School. I spent a few days with Eric and got to know him on a personal level.  St. John's is sponsoring a similar conference this summer, and I was looking forward to seeing Eric again. 
 A few years ago, he retired from Hofstra Law School and joined Pace Law School on a part time basis. He joked that his title was Practitioner-in-Residence which had even less status than that of an adjunct, which I was by then.
As many of you know, I have been trying to break into the teaching profession. I talked with Eric extensively and repeatedly about this. Eric really tried to help me. He personally handed my CV to some faculty he knew. When I later told him that I never got an interview, he was sincerely sorry and explained that he really did not have very much pull left in the legal academy-even at Hofstra Law School.
Eric was a rare law professor. He deeply cared about his students, about the legal profession and about Hofstra Law School. He also understood the importance of being able to practice and apply the law. Eric did not just sit on top of an ivory tower and write law review articles as many law professors do today; in fact he did not write very many law review articles.
Eric practiced what he preached. He was a labor arbitrator and a labor mediator and ethics and the legal profession was very important to him. In fact, when I took labor arbitration in law school, we studied hundreds of Eric's opinions. Eric did not teach that class (he was serving as Dean), but it was the best class I took in law school, do in part, to the variety of experiences and learning that took place just from reading what Eric wrote.  
I last saw Eric about year and half or so ago. He was moderating a panel at Hofstra Law School on the Employee Free Choice Act. He was as sharp as ever and as gracious as ever to me. He was planning to give up teaching his labor arbitration class at Pace and was making plans to pass the buck to me. Unfortunately, that never materialized.
Eric touched the lives of hundreds, if not thousands of law students. His students also adored and admired him.  When I was in law school, Eric drove a Jaguer that many law students took notice of with the license plate "Law Dean." One day while driving to school, I saw his car on the service road of the Meadowbrook Parkway. I pulled over to see if I could help and while I was there several students also pulled over to see if they could help. By the time I got there, Eric was not in his car. He later told me that a student pulled over and picked him up less than 5 minutes after his car broke down. 
Eric will be missed greatly. 
Mitchell H. Rubinstein
December 23, 2010 in Announcements, Faculty in the News, Law Professors | Permalink | Comments (1)
November 26, 2010
ABA Accredition Standards and Tenure
The July 26, 2010 National Law Journal reported on a debate concerning ABA accredition standards. Should they require law schools to award tenure. As the article states:
The fight over law school tenure has been bubbling under the surface for years. The American Law Deans Association in 2006 submitted a letter to the U.S. Department of Education calling for the removal of the ABA's authority to control which positions should be tenured, arguing that its requirements have become overly burdensome and restrictive, not to mention costly. 

The issue was thrust back into the spotlight this month when the ABA subcommittee released its draft changes. The timing of the release — which was made public three days before the larger Standards Review Committee met last weekend to discuss numerous proposals — prompted some criticism. CLEA President Robert Kuehn in a letter called the timing "troubling" because it left little opportunity for people to submit comments before the full committee took up the matter. 

The full committee discussed the tenure proposals last weekend but took no action. No final action is expected before 2012. 
_________________
All tenure does is require due process before an employee is disciplined. It is not a guarantee of life time employment. All employees need job protection. 
Mitchell H. Rubinstein
November 26, 2010 in Law Professors, Law Schools | Permalink | Comments (0)
June 10, 2010
Academic Pay Hit By The Economy
So you want to be a professor? If you do, you should not be interested in this career for the money-particularly in these times. An April 11, 2010 New York Times article states that faculty salary  increased by 1.2% which is the lowest increase in fifty years.  As the article states:
Academic pay has been squeezed by the recession, according to the annual salary survey by the American Association of University Professors.

Over all, salaries for this academic year are 1.2 percent higher than last year, the smallest increase recorded in the survey's 50 years — and well below the 2.7 percent inflation rate from December 2008 to December 2009.

The survey found that average salary levels actually decreased this academic year at a third of colleges and universities, compared with 9 percent that reported lower average salaries in the previous two surveys. Private and church-related universities reported shrinking average salaries more often than public institutions.
Mitchell H. Rubinstein
June 10, 2010 in College Professors, Law Professors | Permalink | Comments (0)
May 24, 2010
JSD Degree??
For those seriously interested in a law school career, a JSD degree is something that you might want to consider. An excellent article on SJD degrees is available on Prawfs Blawg, here. If I had to do it all over again, I would get an SJD degree, particularly considering the fact that I did not go to a top 10 law school.
Mitchell H. Rubinstein

May 24, 2010 in Law Professors | Permalink | Comments (0)
April 20, 2010
Hofstra Legal Writing Prof Is Unsuccessful In Challenging His Non-Reappointment
Matter of Fruehwald v. Hofstra University, ____Misc. 3d____(Nassau Co. April 19, 2010), appears to be part of a growing number of cases where a member of a law faculty commences litigation against his law school. Here, a legal writing instructor was denied a 5 year long term renewable contract. After he accepted a one year probationary type appointment, he sued claiming the Hofstra's decision to deny him a long term contract was arbitrary and capricious which is the governing standard under CPLR Article 78.
After reviewing complicated procedural issues, the court concluded that Hofstra was not arbitrary and capricious, given the deference court's pay to law school decisions, because multiple observers noted issues with the petitioner's teaching performance. The court described the relevant standard as follows:
The courts should not " invade , and only rarely assume academic oversight, except
with the greatest caution and restraint, in such sensitive areas as faculty appointment
promotion , and tenure , especially in institutions of higher learning (Matter of Pace College
Commission on Human Rights of City of New York 38 NY2d 28 , 38; In re Bigler v Cornell
University, 266 AD2d 92 , Iv app dsmd 95 NY2d 777 and rearg den 95 NY2d 849; Loebl v
New York University, 255 AD2d 257). The standard for judicial review is limited to whether
the institution has acted in good faith or whether its action was arbitrary and capricious or
irrational (Tedeschi v Wagner College 49 NY2d 652 , 658; see also Lipsky v New York
Institute of Technology, 69 AD 3d 725). With respect to faculty appointments or the denial
of appointments , a private university in New York is held to the standard of "substantial
compliance" with its own rules and procedures (Gurstein v Bard College, Graduate Center
for Studies in the Decorative Arts 280 AD2d 264); Loebl, supra at 258; see also Tedeschi
supra).
I am really curious as to why the plaintiff commenced litigation in the first place. Other than his personal emotions about the case [which is an important part of employment law that attorneys sometimes discount], if he researched the case law, he had to know about the extreme deference Hofstra is entitled to and he had to know that given that there were multiple negative reports about him, he had an almost impossible burden.
What makes this case so unusual is that he commenced litigation against Hofstra while still employed. My guess is that plaintiff commenced this litigation to give him some leverage if his probationary appointment is terminated. He may have been trying to develop an argument that if his probationary appointment is terminated it was in retaliation for this lawsuit. This of course, is only speculation on my part. 
Mitchell H. Rubinstein
April 20, 2010 in Employment Law, Law Professors, Law Schools | Permalink | Comments (0)
April 05, 2010
Writing Prof Looses Lawsuit Seeking FT Job
Law professors are part of an exclusive club. It is very difficult-close to impossible in fact-to obtain a FT tenure track gig. Legal writing, once considered a second step child, has come into its own as a profession and getting a legal writing gig is also difficult-just not so difficult.
So, it should come as no surprise that applicants may sue if they are not hired. Actually, the legal academy has been quite lucky as there are relatively few suits. From what I can see, there is definitely institutional age discrimination in legal hiring. Why? Schools seek to hire individuals with only a few years of experience right out of a P.h.d. yes, P.h.d. program.
In any event, one recent case, involving a legal writing instructor and which is not an age discrimination case, was recently reported on by our sister blog and contributing editor to this blog, Professor James Levy. You can read the story here.
Mitchell H. Rubinstein

April 5, 2010 in Employment Law, Law Professors | Permalink | Comments (0)
March 01, 2010
Electronic Texts Are Here!
The New York Times reported on Feb. 21, 2010 that electronic texts are here. That article can be found by here, http://www.nytimes.com/2010/02/22/business/media/22textbook.html?partner=rss&emc=rss
Thought the article is about college texts, seems to me that electronic texts are even more valuable to law professors in that case updates can be immediately inserted, links can also be provided etc. It also seems to me that all of this can be done in a MS Word document as well, cutting out the publisher completely. Perhaps, Profs can sell their documents directly resulting in a better and more cost efficient product for everyone.
The article describes electronic publishing as follows:
In a kind of Wikipedia of textbooks, Macmillan, one of the five largest publishers of trade books and textbooks, is introducing software called DynamicBooks, which will allow college instructors to edit digital editions of textbooks and customize them for their individual classes.
Professors will be able to reorganize or delete chapters; upload course syllabuses, notes, videos, pictures and graphs; and perhaps most notably, rewrite or delete individual paragraphs, equations or illustrations.
While many publishers have offered customized print textbooks for years — allowing instructors to reorder chapters or insert third-party content from other publications or their own writing — DynamicBooks gives instructors the power to alter individual sentences and paragraphs without consulting the original authors or publisher.
Mitchell H. Rubinstein
March 1, 2010 in College Professors, Colleges, Law Professors, Law Schools | Permalink | Comments (0)