April 21, 2013
Call For Papers: Law & Informatics Symposium at Northern Kentucky
The Northern Kentucky Law Review has issued a call for papers for its February 27-28, 2014, Law & Informatics Symposium: "Cyber Defense Strategies and Responsibilities for Industry."  For more information, click here.
April 21, 2013 in Announcements, Conferences, Faculty, Law Review Articles | Permalink | Comments (0)
July 03, 2012
South Texas College of Law Sweeps Writing Awards
From the South Texas College of Law website:
June 27, 2012 - For the first time in the history of the prestigious American Society of Legal Writers' Scribes competition, one school took first, second, and third place: South Texas College of Law. The Scribes award is given to authors of the best written legal brief submitted in a national moot court advocacy competition this past academic year. South Texas students authored eight of the 68 briefs entered in the competition. This is the 5th time South Texas has won first place in the competition—no other law school in the U.S. has won it more than once. "The Scribes Award is recognized by all academics as the gold standard for legal writing," says Associate Dean and Director of Advocacy T. Gerald Treece. "These briefs are judged anonymously and three of ours were the best of best from across the country."
Formal presentation will be made on August 3 at the Scribes' annual luncheon during the ABA Annual Meetings in Chicago.  Congratulations to winning authors and to Dean Treece and the South Texas advocacy program for this impressive sweep.
July 3, 2012 in Announcements, Colleges, Law Students | Permalink | Comments (0)
December 23, 2010
Eric Schmertz Passes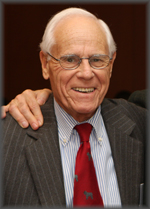 The New York Times reported on December 22, 2010 that Eric Schmertz passed away at age 84, here. Eric was one of the most respect labor arbitrators in the country and certainly, in New York. He was involved in many major private and public sector cases. He also served as NYC Labor Commissioner, as a Member of the NYC Office of Collective Bargaining and as a Member of PERB. But public service was only a small part of his life.
I first met Eric while a student at Hofstra Law School, while he served as Dean. It was a thrill meeting him because only a few years earlier I had used his text book Personnel Administration and the Law, (2d ed 1979) in college. It is one of the only, if not my only, college textbook that I still own.  
Eric was always very helpful to me in my professional career. While I was still a student, he took me with him to an arbitration and let me draft a decision. He then spent several hours with me explaining why he saw things differently and he was, of course, right. When I graduated, Eric was responsible for me getting my first job as an associate at a big firm. I will never forget that interview when the first thing the partner who interviewed me said "Eric Schmertz thinks your hot stuff."
A few years after I graduated from law school and after I left that firm, the first arbitration that I tried was before Eric. I have since tried hundreds of arbitrations. To this day, I remember that first one exactly. Eric went out of his way to explain his rulings and after the case was over, counseled me on my mistakes (and I made many; even though I won the case). 
As the years passed, I did not see Eric very often. In 2006, we appeared on a panel on arbitration at a conference in London England sponsored by St. John's Law School. I spent a few days with Eric and got to know him on a personal level.  St. John's is sponsoring a similar conference this summer, and I was looking forward to seeing Eric again. 
 A few years ago, he retired from Hofstra Law School and joined Pace Law School on a part time basis. He joked that his title was Practitioner-in-Residence which had even less status than that of an adjunct, which I was by then.
As many of you know, I have been trying to break into the teaching profession. I talked with Eric extensively and repeatedly about this. Eric really tried to help me. He personally handed my CV to some faculty he knew. When I later told him that I never got an interview, he was sincerely sorry and explained that he really did not have very much pull left in the legal academy-even at Hofstra Law School.
Eric was a rare law professor. He deeply cared about his students, about the legal profession and about Hofstra Law School. He also understood the importance of being able to practice and apply the law. Eric did not just sit on top of an ivory tower and write law review articles as many law professors do today; in fact he did not write very many law review articles.
Eric practiced what he preached. He was a labor arbitrator and a labor mediator and ethics and the legal profession was very important to him. In fact, when I took labor arbitration in law school, we studied hundreds of Eric's opinions. Eric did not teach that class (he was serving as Dean), but it was the best class I took in law school, do in part, to the variety of experiences and learning that took place just from reading what Eric wrote.  
I last saw Eric about year and half or so ago. He was moderating a panel at Hofstra Law School on the Employee Free Choice Act. He was as sharp as ever and as gracious as ever to me. He was planning to give up teaching his labor arbitration class at Pace and was making plans to pass the buck to me. Unfortunately, that never materialized.
Eric touched the lives of hundreds, if not thousands of law students. His students also adored and admired him.  When I was in law school, Eric drove a Jaguer that many law students took notice of with the license plate "Law Dean." One day while driving to school, I saw his car on the service road of the Meadowbrook Parkway. I pulled over to see if I could help and while I was there several students also pulled over to see if they could help. By the time I got there, Eric was not in his car. He later told me that a student pulled over and picked him up less than 5 minutes after his car broke down. 
Eric will be missed greatly. 
Mitchell H. Rubinstein
December 23, 2010 in Announcements, Faculty in the News, Law Professors | Permalink | Comments (1)
April 01, 2010
The shifting definition of academic cheating
In a recent article from the Chronicle of Higher Ed that discusses the rise of academic cheating among college students (and places some of the blame with professors who turn a blind eye to it), it's clear that professors and students often differ significantly on what it means to "cheat."
In surveys, [a Cal-Poly engineering professor] asked students if they viewed bringing a cheat sheet to an exam as cheating. Most did. Then he asked the same students whether they would consider it cheating to bring a graphing calculator with equations secretly stored on it. Many said no, that wasn't cheating.

'I call it 'technological detachment phenomenon,' [the professor] told me recently. 'As long as there's some technology between me and the action, then I'm not culpable for the action.' By that logic, if someone else posted homework solutions online, what's wrong with downloading them?

The popularity of Web sites full of homework answers seems to confirm his finding. One of them, called Course Hero, boasts a free collection of 'over 500,000 textbook solutions.' The company set up a group on Facebook, where more than 265,000 people have signed up as 'fans.'

Drew Mondry, a junior at New England College, who recently transferred from Michigan State, is among them. 'The feeling about homework is that it's really just busywork,' he told me. (He said he does not cheat on his homework and only signed up as a fan of the Course Hero site because some friends did.) 'You just call your friend and say, 'Hey, do you know the answer?''
The stakes are much higher for law students who get caught cheating versus undergrads.  It can mean a guilty student could be denied bar membership.  So while we can't stop law students who are intent on cheating (and unfortunately some are), at least we should spell out clearly for them in our syllabi how we define it so that the majority of students who want to conform their behavior accordingly can do so.
You can read the rest of the CHE story here.
(jbl)
April 1, 2010 in Announcements | Permalink | Comments (0)
December 03, 2009
Berkeley and Georgetown Law Announce Student Loan Forgiveness Program
Karen Sloan (National Law Journal) reported last weekend that law schools at UC-Berkely and Georgetown are offering to forgive law school debts for graduates who commit to work in public interest law for at least 10 years.  
Sloan reports that the programs are tied to recently enacted federal legislation designed to assist debt-laden college students:
The loan forgiveness programs at Georgetown and Berkeley are designed to complement the College Cost Reduction & Access Act — a federal program intended to help borrowers manage their student debt that went into effect in July. The federal program is especially helpful for public interest workers, because the government will forgive the loan balance after the borrower has made payments for 10 years. Loan forgiveness applies to lawyers working at nonprofit organizations, government agencies and legal aid organizations.

Under the income-based repayment portion of the new federal program, monthly loan payments are capped at about 10% of the borrower's income, which is important because public interest lawyers generally make far less than their counterparts at law firms. A survey last year by the National Association for Law Placement found that public interest attorneys can expect starting salaries of about $41,000.


Both Berkeley and Georgetown will pay the entirety of those capped monthly payments for 10 years, until the federal government forgives the debt.
The program does not offer full coverage for graduates in public interest law making high salaries.  Full coverage is available Berkeley graduates making up to $65,000 annual salary and to Georgetown graduates making up to $75,000 annual salary.  Graduates earning more receive loan assistance on a sliding scale to around $100,000 in annual salary.  Sloan further reports that the program is funded by alumni donations at Georgetown and student fees at Berkeley.  
With the economy in recession, law school costs rising and the demonstrated need for attorneys committed to public interest work as strong as ever, these loan forgiveness programs look like they can't miss.
Craig Estlinbaum
December 3, 2009 in Announcements, Law Schools, Law Students | Permalink | Comments (0)
May 26, 2008
Memorial Day
Memorial Day dates back to Civil War Veterans is an interesting May 25, 2008 San Francisco Chronicle article that traces the history of Memorial Day.
Today is actually the 140th Memorial Day. It was first recognized as a holiday in 1868 to honor the Civil War fallen soliders. Today Memorial Day also marks the unoffical start of summer. The are miltary activities and parades all of the country to mark this important holiday. However, most Americans simply stay home and spend time with their families.
Additional information can be found on Wikipedia.
Enjoy!!
Mitchell H. Rubinstein
May 26, 2008 in Announcements | Permalink | Comments (0) | TrackBack
May 18, 2008
Reminder-Adjunct Blog Has A Number of Useful Free Legal Research Links and A Useful Blogroll
Most people who find my blog, come here via Google and some become regular RSS subscribers (thank you). However, many of you might be overlooking an important part of this blog.
I try to maintain a listing of the best "free" legal research web sites. My goal is that you would bookmark this blog or perhaps even make it your home page. I also maintain a listing of helpful blogs-particularly in the areas of employment law, education law and New York law. I do not just put anyone on my blogroll. So please check it out.
Mitchell H. Rubinstein
May 18, 2008 in Announcements | Permalink | Comments (0) | TrackBack