Thursday, December 23, 2010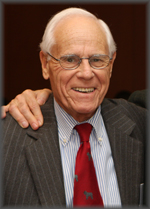 The New York Times reported on December 22, 2010 that Eric Schmertz passed away at age 84, here. Eric was one of the most respect labor arbitrators in the country and certainly, in New York. He was involved in many major private and public sector cases. He also served as NYC Labor Commissioner, as a Member of the NYC Office of Collective Bargaining and as a Member of PERB. But public service was only a small part of his life.
I first met Eric while a student at Hofstra Law School, while he served as Dean. It was a thrill meeting him because only a few years earlier I had used his text book Personnel Administration and the Law, (2d ed 1979) in college. It is one of the only, if not my only, college textbook that I still own.  
Eric was always very helpful to me in my professional career. While I was still a student, he took me with him to an arbitration and let me draft a decision. He then spent several hours with me explaining why he saw things differently and he was, of course, right. When I graduated, Eric was responsible for me getting my first job as an associate at a big firm. I will never forget that interview when the first thing the partner who interviewed me said "Eric Schmertz thinks your hot stuff."
A few years after I graduated from law school and after I left that firm, the first arbitration that I tried was before Eric. I have since tried hundreds of arbitrations. To this day, I remember that first one exactly. Eric went out of his way to explain his rulings and after the case was over, counseled me on my mistakes (and I made many; even though I won the case). 
As the years passed, I did not see Eric very often. In 2006, we appeared on a panel on arbitration at a conference in London England sponsored by St. John's Law School. I spent a few days with Eric and got to know him on a personal level.  St. John's is sponsoring a similar conference this summer, and I was looking forward to seeing Eric again. 
 A few years ago, he retired from Hofstra Law School and joined Pace Law School on a part time basis. He joked that his title was Practitioner-in-Residence which had even less status than that of an adjunct, which I was by then.
As many of you know, I have been trying to break into the teaching profession. I talked with Eric extensively and repeatedly about this. Eric really tried to help me. He personally handed my CV to some faculty he knew. When I later told him that I never got an interview, he was sincerely sorry and explained that he really did not have very much pull left in the legal academy-even at Hofstra Law School.
Eric was a rare law professor. He deeply cared about his students, about the legal profession and about Hofstra Law School. He also understood the importance of being able to practice and apply the law. Eric did not just sit on top of an ivory tower and write law review articles as many law professors do today; in fact he did not write very many law review articles.
Eric practiced what he preached. He was a labor arbitrator and a labor mediator and ethics and the legal profession was very important to him. In fact, when I took labor arbitration in law school, we studied hundreds of Eric's opinions. Eric did not teach that class (he was serving as Dean), but it was the best class I took in law school, do in part, to the variety of experiences and learning that took place just from reading what Eric wrote.  
I last saw Eric about year and half or so ago. He was moderating a panel at Hofstra Law School on the Employee Free Choice Act. He was as sharp as ever and as gracious as ever to me. He was planning to give up teaching his labor arbitration class at Pace and was making plans to pass the buck to me. Unfortunately, that never materialized.
Eric touched the lives of hundreds, if not thousands of law students. His students also adored and admired him.  When I was in law school, Eric drove a Jaguer that many law students took notice of with the license plate "Law Dean." One day while driving to school, I saw his car on the service road of the Meadowbrook Parkway. I pulled over to see if I could help and while I was there several students also pulled over to see if they could help. By the time I got there, Eric was not in his car. He later told me that a student pulled over and picked him up less than 5 minutes after his car broke down. 
Eric will be missed greatly. 
Mitchell H. Rubinstein
http://lawprofessors.typepad.com/adjunctprofs/2010/12/eric-schmertz-passes.html